My debut novel, The Red Bird Sings, is inspired by the true story of a murder trial in West Virginia in 1897. When a blacksmith named Trout Shue was charged with the murder of his young wife, Zona, a remarkable circumstance surrounded his indictment. Zona's mother, Mary Jane Heaster, claimed that she had been visited by her daughter's ghost, the apparition telling her that it was her husband who had killed her.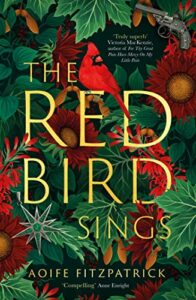 I first heard about this real-life story through an 'On This Day' feature on a science podcast. The conversation dismissed its supernatural elements, but the case stayed with me. Not just the strange, gothic happenings that took place after Zona's death, but the gripping story of a woman who had found the courage to pursue justice for her daughter. Here was bottled light, ready to be spilled across modern landscapes of coercive control and domestic homicide.
Told from the points of view of three different women, The Red Bird Sings takes place during the Gilded Age. Mary Jane Heaster's appetite for spiritualism is growing, eager for greater voice in a fast-changing world that no longer reveres her traditional way of life. After Zona's death, Mary Jane's strongest support is her daughter's best friend, Lucy Frye. An aspiring journalist, Lucy reports on the trial of Trout Shue, revealing deeper truths about life in Greenbrier County than any of those that will appear in the court transcriptions. Zona, too, is present, through a series of letters written to the daughter she surrendered for adoption at birth. She gives insight into the final months of her life, and the blossoming wisdom she would like to pass to her absent child.
The women in the novel are haunted by the need for justice. The trial, relying on circumstantial evidence, is a suspenseful game of cat-and-mouse. The smallest reasonable doubt will cause Trout to be acquitted. And as Mary Jane and Lucy come under intense interrogation, they discover their own futures to be under threat.
This is a story about power, as relevant today as it was in 1897. In The Red Bird Sings we witness, not only its abuse, but the extraordinary things that might happen when voice is suppressed. Mary Jane, Lucy, Zona; all three women find their agency disavowed. The question is, can their spirits be conquered, too?
You can now order The Red Bird Sings by Aoife Fitzpatrick on our website.