The seed of the inspiration for my debut novel There's Something I Have To tell You was sown one day as I listened to Lunchtime Live on Newstalk. I loved that show when Ciara Kelly was presenting it as people used to write in with all kinds of problems, looking for help. As a former GP, she always gave good practical, down-to-earth advice, and people would text in from all over the country throwing their tuppence-worth in.
One woman had written in desperate for advice on what to do about her toxic sister-in-law who was causing chaos among her family. She referred to her as the Queen of Sheba and that became the working title for my debut book. Her Queen of Sheba became my narcissistic mother-in-law character Ursula, who simmered away inside my head for a few years before she finally started to take shape as a character.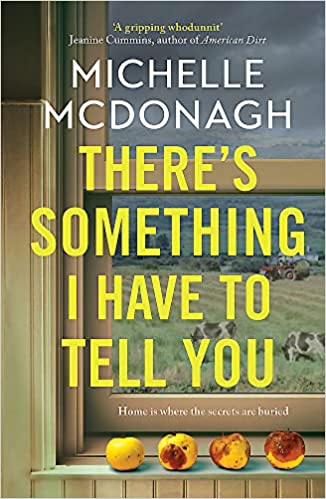 They say a 'mother's love knows no bounds', and indeed, most mothers would throw themselves in front of a bus or off a cliff to save their child but that's not always the case sadly, and I wanted to explore what happens to a family where the mother puts herself, her own self-interest and her public image and reputation, above everybody else. Even her own children.
I love books with a strong sense of setting, and there was nowhere else I could have set my debut, There's Something I Have To Tell You than my beloved native Galway. Although it's not set in Galway city where I grew up myself, it is very loosely based on the market town of Ballinasloe where my mother came from and where I have many happy memories of times with our grandparents who lived in the centre of the town.
While I started and abandoned a number of books over the years, I kept writing myself into a cul de sac and could never get beyond about 30,000 words. Although I was a voracious reader of books on creative writing, it wasn't until I started a Faber Write Your First Novel course at the start of 2020 and learnt how to plot that I realised that's where I had been going wrong all along. Unlike some writers who can just take off with a vague idea of where they are going, I need to have my route mapped out first. I don't have to stick religiously to this route, but when I get lost, it helps me get back on track and out of those blasted cul de sacs. My debut novel was the first book I plotted properly, and the first book I ever finished.
There's Something I Have to Tell You by Michelle McDonagh is publishing on 13th April.