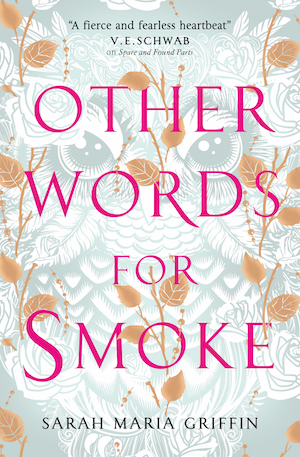 If you're anything like me, you must be very excited about all the witchy Irish YA books that 2019 has brought. But with so many tempting choices, where to begin? Let this post be your guide to this enchanting scene.
Other Words for Smoke — Sarah Maria Griffin
When Rita Frost's home at the bottom of the Wicklow mountains burns down, only twins Mae and Rossa know the truth about what happened to the house and its peculiar inhabitants. This is a novel about power, love, fear, and the marks our actions leave on the world, interwoven with complex threads of family and magic. Perfect for fans of lyrical writing and literary fiction.
Season of the Witch — Sarah Rees Brennan
Love Netflix's Sabrina and need more of it in your life? Look no further — Sarah Rees Brennan is here to bring us more of these beloved characters and their witchy shenanigans. Adding Sarah's unique sense of humour to the show's dark tone, this is the urban fantasy that you need!
The Wickerlight — Mary Watson
In the eagerly awaited companion to The Wren Hunt, Mary Watson delves further into the conflict between the rival descendants of the druids — the augurs and the judges. Her atmospheric use of myth and folklore sets this book apart. With its tight-knit communities and nature magic, this is a deliciously dark rural fantasy.
Perfectly Preventable Deaths — Deirdre Sullivan
When twins Maddy and Catlin move into their new stepfather's castle, they find themselves in a small community bound together by secrets and mysterious threats. This is an incredibly well-written, timeless book where every word feels intentional. Undeniably dark and visceral, this is one for true fans of the gothic!
And there's plenty more witchy Irish YA to come – I've just received a copy of All the Bad Apples, and I can't wait to get stuck into it!