Sheila O' Flanagan, briefly tells us about her first historical novel, The Woman On The Bridge. The story of a young woman caught up in Ireland's fight for freedom.
The factual history of the War of Independence and the Civil War is the subject of many books, and even more volumes have been written about the notable characters who featured in them. But what interested me most, and has always interested me, is the untold stories of ordinary people who find themselves living through extraordinary circumstances; particularly the stories of women who, while fighting for their beliefs, nevertheless hold their families together, feed their children and make everyday life as normal as possible when everything around them is not.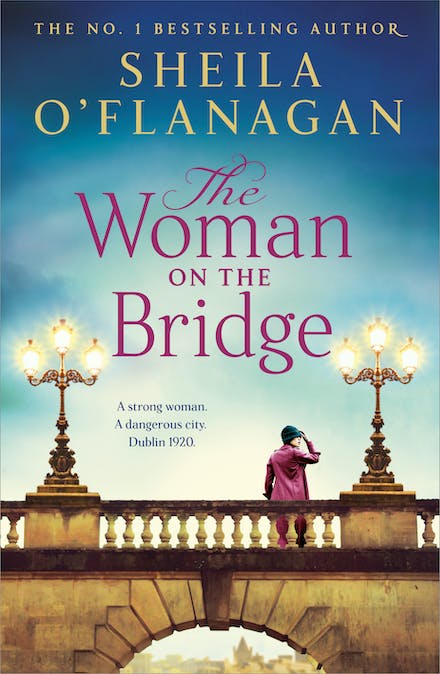 As a young girl I spent a lot of time with my grandmother. She encouraged me to read the books on her bookcase, but what fascinated me the most from the selection on the shelves was my grandfather's autograph book, from his time as a prisoner during the Civil War. The pages were filled with comments and drawings, some witty, some sad, some defiant. I wanted to know more, but my grandmother preferred to talk about their time together rather than their enforced separation.
She liked to talk of the people she met and knew when she was younger. I loved hearing about Countess Markievicz although was disappointed that they didn't meet at a ball where everyone was wearing fabulous dresses and tiaras. However I accepted my grandmother's assertion hat it was more important to be strong and brave and fight for what you believed in rather than to dress up — a message that has never left me.
Although her stories stayed with me, it wasn't until during lockdown that they, and memories of my grandmother, who had lived through so many turbulent events of the early 20th century, came rushing back to me. As I wrote them down, they took on a narrative that I hadn't expected, and suddenly I realised that I was writing a book.
The times she lived in shaped my grandmother, but they didn't define her. She was a woman of many interests, who loved her job in a haberdashery store, theatre, music, walking around Dublin city and stopping at Bewley's for coffee. Often, as a treat, she'd bring me to the Gresham Hotel where she'd tell me about times past. It's been a privilege to interpret these stories and shape them into the novel that became The Woman on the Bridge. But most importantly I hope I've brought my grandmother's personality to life and achieved what I try to achieve in all my novels – to show the strength and resilience of women no matter the time and no matter their circumstances.
You can now pre-order her her novel.