I had a single recurrent idea for How to Build a Boat for many years––to write a story about a boy who was starting secondary school. But it took me years, many drafts, and a lot of looking out the window during lockdown, to figure out why Jamie, who I had named by this time, was compelled to build a currach.
The novel centres around three characters, Jamie, Tess and Tadhg who all arrive in Christ's College­­––an oppressive boy's school in the west of Ireland, on the same day––the first day of first term. Jamie's aim is to build a perpetual motion machine, to try recreate the energy of his teenage mother, Noelle, who died just moments after giving birth to him. In the school, where everything is bewildering, Tess and Tadhg, two teachers, trying to come to terms with their own grief, begin to work with Jamie, and over the course of the story all three lives intertwine.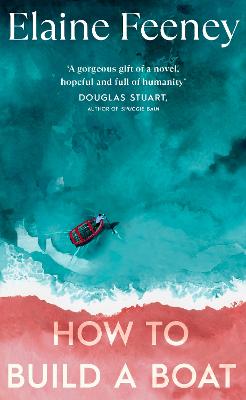 I had an early version written some years ago, but during lockdown, I started it all over again. It was a story that came in visual bursts for me, the house was quiet, and although I am usually inspired by auditory spaces––places with lots of chat, this book took me back into a visual imagination. Thinking about the world as I used to know it, and in essence I started to create a new place. I could see clearly the imaginary town of Emory that I created, it just opened out in my mind after I had drawn many maps of it. I could see the school, the cathedral, the rows of houses in Jamie's estate, the shutdown cinema, the boarded-up library, the town's square and the River Brú by the forest.
At its core, I think now, looking back at it retrospectively, it's a book about loneliness and how an unlikely group of people can come together to build something––to remake your life after great change. It's also about living your own authentic life, and not settling for the version of yourself that others might project onto you. As Jamie, Tess and Tadhg navigate the oppression of a catholic boy's school, they all seem motivated by finding a new way­­––and they start by crafting something from what they already have. In essence, I hope it's a story that reimagines a post-capitalist world, a society that relies on and nurtures what we already have around us.
You can now order How to Build A Boat by Elaine Feeney online.