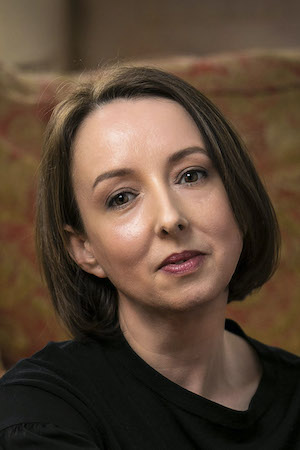 The Temple House Vanishing is a dark and, I hope, atmospheric tale of desire set in a convent school in the early 1990s.
The story emerged from a kind of misty, fatalistic mood. I knew it was autumn and I could very clearly see a teenage girl getting out of a car in front of a large old house. Her arrival being watched and noted by other students. I had no idea why she was there or what would happen but the image was enough to make me want to find out more.
This girl became sixteen-year-old Louisa, a bright scholarship student who is unsure of her identity and place in the world. When she arrives at Temple House, an elite Catholic boarding school, she is quickly drawn to sophisticated fellow pupil Victoria and their young bohemian art teacher, Mr Lavelle. The three of them form a bond that seems to offer an escape from the repressive regime of the cloistered convent school. Until Louisa and Mr Lavelle suddenly vanish. Years later, a journalist with a childhood connection to Louisa determines to resolve the mystery.
The Temple House Vanishing is my first book and I approached the writing of it very much as a reader. I wanted the story to entice, unsettle and surprise. I think with any book you hope to enter a particular world. In this case it is a world where to be who you truly are can be dangerous, where rituals and the idea of a higher self collide with desire. It's a world where you suppress love in favour of fantasy and secrets.
Rachel Donohue graduated from University College, Dublin in Philosophy and Politics before embarking on a career in communications and media relations. She lives in Dublin, and The Temple House Vanishing is her first novel.