My name, Easkey, has its origins in ancient Gaelic for fish. I'm named after an important salmon river in Ireland that creates a wave where it flows into the sea; it is my father's favourite surf spot. My name reminds me that my identity is tied to water. All of our identities are inextricably linked to the sea. We have all been shaped and formed by the ocean.
Biologically speaking and from an evolutionary perspective, all life came from the sea. The work and writing of environmentalist and marine biologist Rachel Carson, who wrote The Sea Around Us in the 1950s (and later the groundbreaking Silent Spring, which altered our relationship with chemical use and led to the banning of DDT), has greatly influenced my own perspective. Her pioneering work, weaving her passion for the sea into her scientific studies and how powerfully and poetically she wrote about our sea connection definitely inspired me. According to Carson, the sea remains in the saltwater of our blood, our cells, our DNA, from when the first animals came ashore and took up a land life — we are all linked with this watery origin in the ancient sea. This entanglement also means we can't be well in a sick sea.
If we could better protect and restore the ocean, then we would also have healthier people and communities.
This is at the heart of Saltwater in the Blood — understanding our relationship with the ocean. If we could better protect and restore the ocean, then we would also have healthier people and communities. The wellbeing benefits to be gained from a healthy marine environment are just beginning to be understood. The healing potential of water is nothing new, it's been known and practiced for millennia and is integral to indigenous cultures, but western science is finally catching up. There is strong evidence now for the tremendous therapeutic potential of water, greater even than other types of natural environments.
Writing Saltwater in the Blood was my way to explore these connections more deeply, through my surfing and oceanic immersions. I also wanted to present a new take on surfing — about surrender to a force that is physical, emotional and messy. In the book, I translate some of those lessons learned from the sea and surf into our land-life back ashore. For me, it's about letting go of any need to perform and instead listening to our body, and how it responds to the natural, living world around us. My ocean connection and surfing experiences have taught me to embrace imperfections and the unknowability of life as we reconnect with ourselves and nature.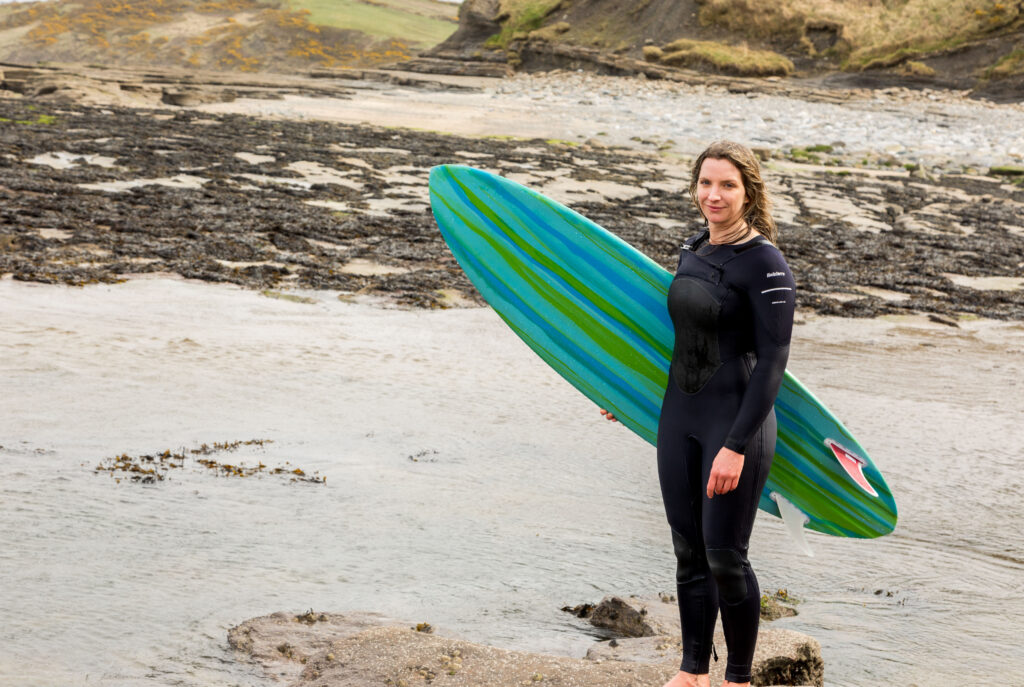 Easkey Britton is a surfer, writer, artist, film-maker, coach and marine social scientist, with a PhD in Environment and Society. A life-long surfer, she was taught to surf at the age of four, and she now channels her passion for the sea and surfing into social change. Her promotion of female surfing in Iran is explored in her TEDX talk, Just Add Surf, and the award-winning documentary Into the Sea.