Meeting an author can be fraught with difficulties: If I don't get on with them, will I want to read their book? What if I love the author, but hate their work? Should I risk meeting the author of books I have enjoyed, in case it jeopardises how I feel about their future work? Questions, questions, questions…
Who wouldn't enjoy a fancy meal out in a top-class restaurant in the company of booksellers, agents, representatives, reviewers, editors, buyers, and authors? Events like the book launch of Frances Macken's You Have to Make Your Own Fun Around Here were the norm, before the effects of COVID-19 impacted Ireland. So, on with the glad-rags, and off I went to eat myself silly, in excellent company. I hadn't read the book, but it was in my goodie-bag I received on the night, along with other literary treats, to take home and peruse at my leisure.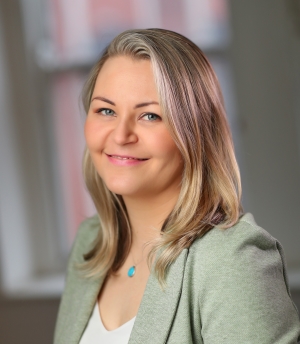 After a quick change of seats for dessert, Frances Macken sat down beside me and we proceeded to chat away, as if we'd known each other for years. I discovered that Frances had recently become a new mum, and before she could say "nappy pins" I was giving her plenty of unwanted advice! Frances was great company, and we could have talked all night. But the last Dart beckoned me home, and so, the evening ended with hugs and kisses all round, and calls of "Thank you! Good luck! See you soon!"
Two days later I started the book; it was the least I could do after such a splendid dinner hosted by Repforce. Very soon I found myself absorbed in the story and its variety of characters who hail from a small Irish village. It centres on two girls, Katie and Evelyn "who have been friends since before they were born." Evelyn has a magnetic personality, while Katie is happy to follow her wherever she goes. Together they plan a bright future, but as they grow up, they inevitably change and become two very different people.
Well-written, absorbing, and highly entertaining with a very satisfying conclusion, this story is one I'll be recommending to all and sundry as soon as I get back to work. And the best thing is, not only do I love the book, on this particular occasion, I'm delighted that I met the author!