I'm often asked where I get the ideas for my books, and the answer is different every time. The Last Lifeboat began with a nugget of history I discovered back in 2020 while researching ideas for my next novel.
I was reading about evacuees during the second world war when I came across an account of 'sea evacuees' – children who were evacuated overseas. The account included information about an evacuee ship, SS City of Benares, which was torpedoed in the Atlantic en route to Canada from Liverpool. In the aftermath of the sinking, a lifeboat of survivors was lost at sea for eight days. I knew immediately that this was a story I wanted to tell.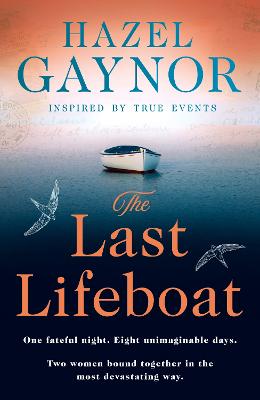 But more than a story of war, this was also a story of survival and hope, and the agonising choice faced by parents – mothers, especially – to send their children on a risky journey overseas, or keep them at home under the threat of German invasion. As a mother, I can't imagine facing such an impossible decision, yet so many ordinary women like me had to do just that in the summer of 1940.
Researching and writing a novel set during a time of war involves an uncomfortable closeness to accounts of human suffering and grief, yet stories of bravery and hope always sit alongside those of pain and loss. It is impossible, it seems, to write about one without the other. The Last Lifeboat is therefore a novel about extraordinary courage, and an exploration of the lengths we will go to for those we love the most. In writing about this relatively unknown episode of the war, I hope that the experiences of the young evacuees, the families they left behind, and the ordinary men and women who bravely volunteered to escort the children on their journey, will become more widely known.
Three years after reading that first account of the sea evacuees, I'm so thrilled to share The Last Lifeboat with readers. Every book starts with the spark of an idea in the writer's imagination, but I firmly believe it begins again when it reaches readers' hands. So it is over to you now, dear reader. I hope you find whatever it is you need among the pages.
You can order The Last Lifeboat by Hazel Gaynor now.