The sequel to the No.1 Sunday Times Bestseller Murder Before Evensong, A Death in the Parish is here! And Daniel Clement is back…
It's been a few months since murder tore apart the community of Champton apart. As Canon Daniel Clement tries to steady his flock, the parish is joined with Upper and Lower Badsaddle, bringing a new tide of unwanted change. But church politics soon become the least of Daniel's problems. His mother – headstrong, fearless Audrey – is obviously up to something, something she is determined to keep from him. And she is not the only one. And then all hell breaks loose when murder returns to Champton in the form of a shocking ritualistic killing…
Note from Richard Coles
I had such fun with MURDER BEFORE EVENSONG and I can't wait to bring readers back to Champton for A DETAH IN THE PARISH. It takes off some months after the end of the previous book, as the parish is expanded and Canon Daniel Clement has to wrestle with a difficult new colleague. But there's also something going on with his mother Audrey, and then there's the shock of a bizarre ritualistic murder in the parish, which Daniel will help to solve.
Plus, cats as well as dogs this time!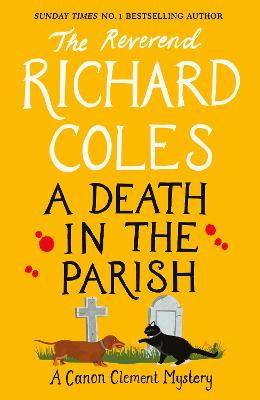 Richard's 5 favourite books
I have so many favourite authors and books, but today here are a few that spring to mind:
A Murder is Announced by Agatha Christie
Anything that happens in a village called Chipping Cleghorn is fine by me, but when a parlour game of murder in the dark, announced in the local paper, results in a real dead body, then my cup runneth over. It is vintage Christie, impeccably plotted, ingenious and fascinating as social commentary, set in the aftermath of the Second World War, when not even fields of hollyhocks and oceans of tea could keep the consequences of conflict at bay.
The Diary of a Country Parson, 1758-1802 by James Woodforde, 1924
Woodforde was an 18th century parson in Norfolk who kept a diary in which he tells, with unaffected appeal, the everyday story of his parish, from heartbreaking burials of infants, to his pigs getting drunk on home brew.
Janice Hallett also has form in Whitehall where she wrote speeches for the Cabinet Office (when she wasn't writing for the screen). Her debut novel is so clever and brilliant and gripping, telling its story through the fragmentary evidence of documents, which reveal a tale of murder, a false conviction and a murderer who almost taunts us by hiding in plain sight. It also has amateur theatre, a charity appeal and a QC called Roderick. I loved it.
Russia: Revolution and Civil War, 1917—1921, by Antony Beevor
I loved Beevor's history of the battle of Stalingrad and he returns to the country that has fascinated me since I was little boy with a lucid survey not of a single conflict but of the vast and complicated story of Revolution and the Civil War that followed.
Selected Poems by Don Paterson, 2012
One of my favourite poets; Paterson writes about family life, and about peculiar lives in peculiar places, and about his native Scotland, with a voice that sounds simultaneously as artless as a pop song and as epic as Homer.
You can now pre-order A Death in the Parish by Reverend Richard Coles.