Naoise Dolan tells us about her new read, The Happy Couple.
Astrology is a harsh mistress, yet I'm ever in her thrall. As an Aries, I am constantly told that I'm an impatient hyper-perfectionist; that I'm somehow both fickle and stubborn; that I'm too tactless for Pisces, too bossy for Taurus, and as for Aries/Aries … don't go there. I know I'll hear a series of specific assaults on my character whenever I check my horoscope. Why do I keep coming back for more? I think I enjoy the surrender, the sweet submission to fate. Yes, I'm an eejit, but it's not my fault. A ram can't change its horns.
I've also delved into Myers-Briggs, which is astrology for people who think they're too smart for astrology. This popular personality test splits all of humanity into sixteen 'types'. Here, I'm an ENTP, 'the debater', essentially a detail-oriented loudmouth. All my toxic Aries traits carry over.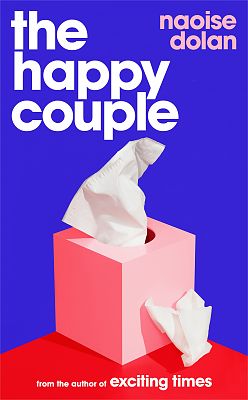 But if I really had to commit to a type, I would say: chameleon.
As a child, I was terrified of people. 'She's quiet' was the general consensus – sometimes meaning 'good girl', sometimes 'unnervingly so'. I never really got over it. I just learned to act. In any given room, I observed the most confident person and copied their gestures, their tics. By my early twenties, I could pretend to be anyone I wanted. I even applied this approach to writing fiction. It was painful to squeeze the words out until I had a sense of the characters. But once I knew them well enough to write as them, not myself, the sentences followed in procession.
There's no harm in a writer's fabrication. Everyone knows it's not real, or everyone with a lick of sense does. But what about in my actual life? In my capacity as me? I used to fear that the approval of others represented ill-gotten gains, that I had plied my wares with a forged permit.
Here's the thing, though. Number one: you can't force anyone to like you. At most you can try to make it possible. The word is 'likeable', not 'like-mandatory'.
Number two: why is choice bad? Why, if it's good to naturally be a certain way, would it then be bad to choose that same persona?
The other day, talking to a friend in Berlin, I finally managed to articulate an opinion I've long been germinating about Irish manners. From the framework of German directness, Ireland can seem two-faced: why do Irish people say 'We should get pints some time', then act surprised when the German tries to actually set a date? But literal pints aren't the point, just like 'For God's sake' isn't necessarily about God. Yes, the pints are a lie, but figuratively they're true. The sentiment is the stuff, and the words are its container. The same applies to a storyteller's charades.
My second novel, The Happy Couple, takes my thespianism to a new level. For my first novel, Exciting Times, I got into the head of one narrator; in my new book, there are five. Each character takes their turn describing their role in the countdown to a wedding: the bride, the groom, the best man, a bridesmaid and a guest.
I had great fun giving them all a voice: Celine, Phoebe, Archie, Luke, Vivian. I drew on the chameleonic tendencies I'd learned in my teens, becoming each of them as I wrote. The process wasn't always fluid; I redrafted some sentences a million times until I'd found the character's words. But all that work, all those decisions, made me fonder of my cast by the end. I'm a consummate shape-shifter in my actual life, but I'm limited by circumstance; I can only change so much. When I'm writing fiction, there's only one constraint: can I make it work on the page?
You can pre-order The Happy Couple by Naoise Dolan today!