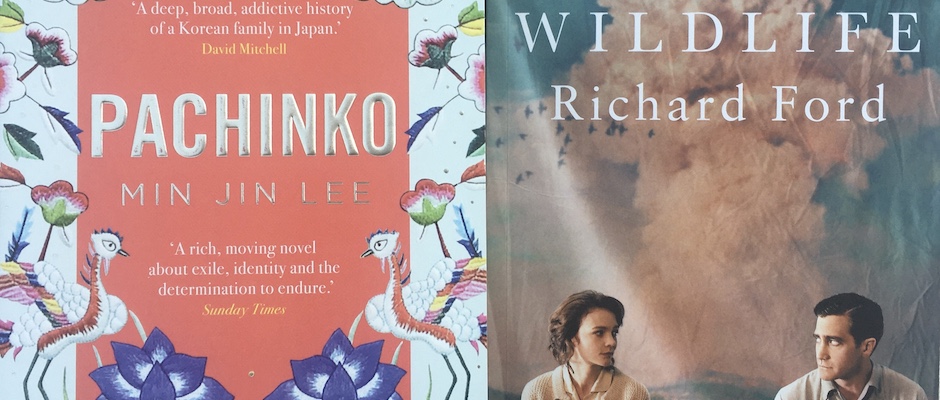 As the year comes to an end, I asked our regular bloggers to pick two books for 2019 — their favourite book published this year, and the best book from the past that they read in 2019. First up, Liadh and Karen.
Aside from Yangsze Choo's The Night Tiger (​see my previous post and author ​interview​), the best books I read in 2019 were:
Wildlife by Richard Ford
An outstandingly well written novella with exceptional tension, Wildlife illustrates the emotional complexities of the human heart and marital love, and in being the child witnessing it. One of those books that grips you in your stomach, and you can't tear yourself away from it until you've finished it. I read it in one sitting.
Pachinko by Min Jin Lee
An epic historical novel following four generations of a Korean family. I grew very fond of each of the characters in this book — it was very difficult to step away from. This book opens your eyes to the impact that emigration has on families, and teaches you about the deep roots of racism in society. An extraordinary novel that's sensitively written, Pachinko has genuinely changed the way I think.
The Handmaid's Tale and The Testaments, by Margaret Atwood
I was first introduced to The Handmaid's Tale at school, ten years or so after it was published. I remember being amazed at how close it seemed to resemble that time as if Margaret Atwood had a crystal ball to predict the future. Twenty years on, I reread it in anticipation of The Testaments and was totally blown away by how a accurately she portrays today's society. The cashless system, Islamist terrorists, and temporary closure of government describes 2020. This is why this book stands the test of time and has such an impact on so many readers.
The Testaments was one of the most eagerly awaited sequels ever to be announced. It follows on from Offred's story but from the point of view of Aunt Lydia and two young girls, one raised in Gilead and the other in Canada. Their stories offer different perspectives of the Gilead regime and enlighten the reader as to their own personal motives for their actions.
Both these novels highlight the brilliant mind of Margaret Atwood who has set the literary world alight over decades of superb writing.