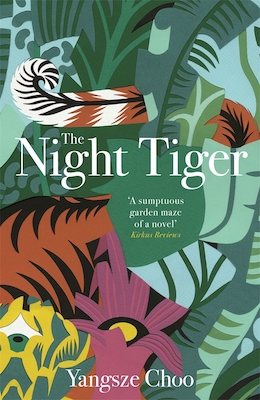 What first intrigued me about Yangsze Choo's The Night Tiger was its Malaysian setting and that its main character was Malaysian-Chinese. I'm half Irish and half Malaysian-Chinese, and the books I'd previously read with Chinese characters were usually set in China (obviously), or were about being an immigrant or second generation in the US. I had never read a book that was about a Malaysian-Chinese character, or represented that part of my heritage, and I was very excited about this.
The Night Tiger is set in 1930s colonial Malaya, before the country renamed itself in 1963 to mark its independence. Being Malaysian-Chinese herself, Choo explores the diversity of Malaysian culture in her novel. You are unconsciously educated about the variety of language, the dress, superstition, ancient folklore, religion, the verdant landscape, the impact of colonisation, and the range of ethnicities in the country. The three main ethnicities in Malaysia are Malay, Chinese, and Indian. The novel focuses on a Chinese family. Choo illustrates the use of language in Malaysia through the main character, Ji Lin: she speaks to her family in Cantonese, to locals and friends in Malay or Hokkien, and in English to British colonials.
Having spent many childhood summers in Malaysia, this book brought back a lot of nostalgic memories of the extreme humidity, the different smells, the architecture, the tropical rain (accurately described by Choo as 'like a bathtub upended in the sky') and, of course, the mouth watering food. I could imagine walking through the streets in Bukit Mertajam — where my Tai Po (great grandmother) lived -— feeling the sticky heat on my skin, taking in the aromas of traditional cuisine being freshly cooked – some personal favourites being nasi lemak, won ton mee, sago gula melaka, and kueh seri muka – and the sonance of a multitude of languages being spoken around me. Captivating you from the very first chapter, The Night Tiger is a colourful, vibrant, and lushly written novel, with a stunning and satisfying plot that slowly and mysteriously unfolds. Choo weaves Malaysian folklore and Cantonese language into a novel rich in character and tale. A page turning story set in 1930s Malaya, this inviting book tells of an unclaimed severed finger, an enigmatic were-tiger, and five unrelated individuals connected by the Chinese Confucian virtues.