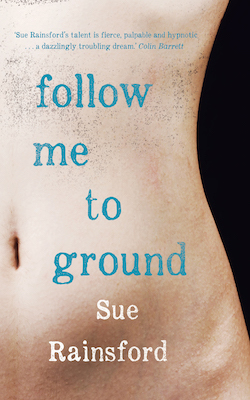 Follow Me To Ground is the startling debut from Sue Rainsford that was longlisted for the Desmond Elliott Prize 2019. Rainsford introduces Ada and her father, the stand-offish healers of a small town. They use the earth to heal their neighbours. The book rotates between Ada's narrative and the bitter gossips of the community. As a result, the reader must fill in the gaps and judge for themselves what this book is about.
Rainsford's dark and distant language is reminiscent of writers such as Eimear McBride and Shirley Jackson, sparking intrigue from the first page. As soon as I read the opening section, introducing Ada and her relationship with the earth, I knew I had found something special. The writing style is ambiguous, lacking emotion and continuity but thriving in mystery. Rainsford's use of multivocal descriptions and fragmented perspectives offers a dark insight into the small town that Ada lives in. Rainsford never explains, never justifies, and never relents. Rather, Rainsford asks the question, "What does it mean to be human?" 
Ada's extended adolescence is brazenly sexual and gory. Even now, months after reading the book, there are snapshots of Ada, her father, and her romantic interest, Samson, that are engraved so sharply into my mind that I don't think I could ever forget them. In my opinion, that is what defines a brilliant book: its ability to haunt the reader. 
While the twist at the end of the book may seem anticlimactic to many, Follow Me To Ground is not about the twist. It is about Ada, intuition versus hearsay, and the effect that the small town she lives in has on her. It is a book about gossip, identity, and the self. 
This is a book that contributes to how we read and how we think. It may not be for everyone, but if you're a fan of shocking literature that experiments with form and content, then this is a must read.
Follow Me To Ground will make you uncomfortable. It will make you squirm. It will linger. It will be something you cannot forget.