As the Tour de France enters its punishing final week, my mind turns to books about cycling. Biographies of professional racers are the meat and potatoes of the genre, but typically they make for dull reading. Even journalists as capable as William Fotheringham or Matt Rendell struggle to breathe life into the litany of race results that makes up the career of a racer. More recently writers such as Jon Day and Paul Maunder have brought the techniques of the urban psychogeographers and the new nature writers to bear on cycling. But to my mind there are only three books that really capture the ineffable allure of the bicycle.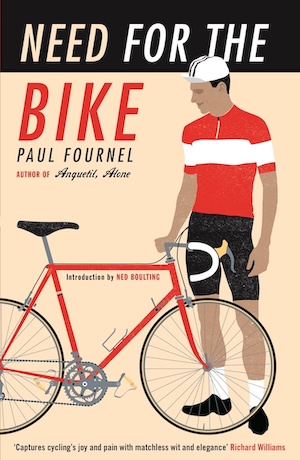 Paul Fournel's Need for the Bike is an unclassifiable work, a collection of short essays — sketches, even — that describe the sensations and experiences of cycling with the kind of insight that comes only with a lifetime on the road. Fournel himself is equally unclassifiable: writer, French cultural attaché, head of the Oulipo (the union of literary game-players and experimentalists that also counted Italo Calvino and Georges Perec among its members). Profile have just published an attractive new edition, but if you search around, you might find a copy of Rouleur's expanded and illustrated hardback edition with the alternate title Vélo.
Dutch novelist Tim Krabbé is perhaps best known in the anglophone world for his psychological thriller The Vanishing, and its 1988 film adaptation (NB avoid the 1993 remake, even if you're a big Jeff Bridges fan). But to cyclists he will always be the author of The Rider. Depicting a fictional amateur race, the Tour de Mont Aigoual, the novel tracks the internal monologue of one of the riders over a taut 148 pages, one for each kilometer of the race. It expresses perfectly the way in which your mind follows its own track while your body continues to pedal as though on autopilot, even while you're screaming down a mountain descent. Although the race is fictional, Mont Aigoual is real enough, and the forty kilometer ascent to the weather station at the top makes a worthy pilgrimage for any fan of The Rider.
Finally, The Escape Artist by Matt Seaton is a memoir of his life as a cyclist, from casual commuter to devoted amateur racer. While Seaton gives a vivid picture of the subculture of racing, the crux of the book is the struggle to balance his obsession with cycling against the calls of personal life. The death of Seaton's wife, journalist Ruth Picardie, from cancer left him as sole parent to their children, ultimately leading him to abandon cycling. The need for the bike must give way to the need to care for his family.
And with that, back to the Tour…allez Dan Martin, allez!