Most of the story of my new novel, An Invitation To The Kennedys, takes place over the course of a week, in the summer of 1938, at the country estate of Chips Channon and Honor Guinness.
I've always loved reading books where characters are held together in time and space, forced to interact constantly with each other rather than dissipate into the wider world. I think there's such scope to build atmosphere and tension where there is no escape for them all. 'Locked room' mysteries do it particularly well, but so do novels like Elizabeth Bowen's The Last September or Ann Patchett's Bel Canto, where the relentless proximity is almost a character in itself – forcing action, forcing confrontation.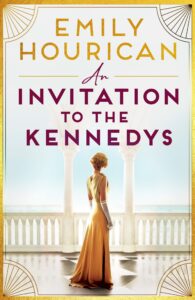 At Kelvedon, in Essex, I gather the entire cast of the book's characters – Joe Kennedy, US ambassador to the UK and his wife Rose; their daughter Kathleen 'Kick' (sister of JFK), aged just 18; Honor; Chips; Honor's sister Brigid Guinness, also 18; Maureen Guinness and her husband, Basil Blackwood, 'Duff'; and Prince Friedrich of Prussia. These are all characters based on real people, who I have placed in an imagined situation. With them is Doris Coates, who first appeared in The Other Guinness Girl, an entirely imagined character.
So what are they all doing, on these hot days while war looms and the world as they know it is ending? They are listening to jazz, playing tennis, swimming and drinking. They are also trying desperately to find their way to happiness, which eludes them all.
Kick is falling in love with Billy Cavendish, heir to the Duke of Devonshire – entirely against the wishes of both her parents and his. Brigid is being encouraged to marry Prince Friedrich, something she has no interest in. Honor and Chips' marriage is in trouble, and Maureen is trying to bolster a fragile new love between her and Duff after years of furious rows. Joe Kennedy is determined to keep America out of the war that is gathering, while Duff is desperate to persuade him to offer America's support. Prince Friedrich is secretly terrified by Nazi plots he only half understands, but knows himself to be central to. And Doris – Doris is searching for the Jewish family who disappeared suddenly from the apartment beside hers in Berlin.
At the end of the week, none of these people will be where they expected to find themselves. The wider world is increasingly dangerous and unpredictable. But so too now is their small, seemingly closed circle.
You can now pre-order An Invitation To The Kennedy's by Emily Hourican.