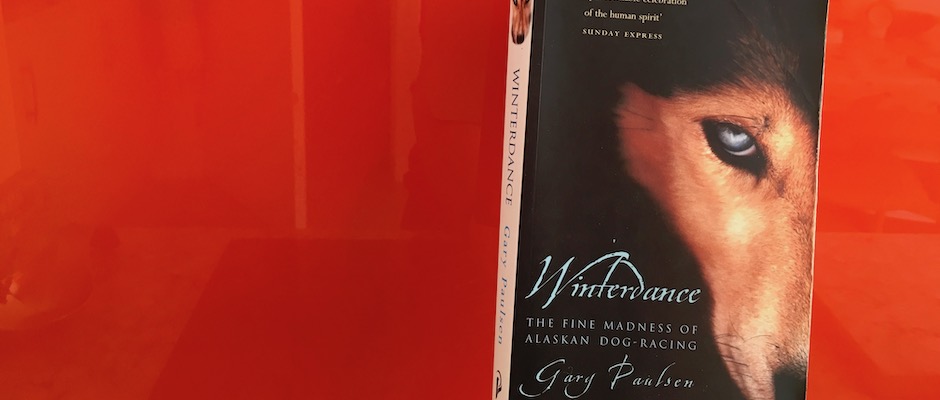 Just when I have the time to jet off to places unknown, it seems that to do so would send my carbon footprint through the stratosphere. Nothing for it but to stay at home while enjoying unlimited travel through books.
The more you read, the more things you will know.
The more you learn, the more places you will go.
— Dr Seuss
One place that I have never particularly wanted to go is Alaska, the 49thState of America. It's cold, and very far away from the sun (which is usually an essential component of my ideal holiday). But that's exactly where I went with Gary Paulsen through the pages of his book Winterdance.  Winterdance is an adventure on a grand scale that took Paulsen and his pack of sixteen dogs on a hazardous 1,000 mile race — for fun! 
The Iditarod is described as the last great race on earth, running from Anchorage in south central Alaska to Nome on the western Bering Sea coast. According to the web page, the Iditarod "throws jagged mountain ranges, frozen river, dense forest, desolate tundra and miles of windswept coast at the mushers and their dog teams. Add to that temperatures far below zero, winds that can cause a complete loss of visibility, the hazards of overflow, long hours of darkness and treacherous climbs and side hills, and you have the Iditarod."
Gary Paulsen's writing conjures up amazing images of the unforgiving terrain that almost defies passage, and his description of how he gets together a pack of suitable dogs — on whom his life will depend — will leave you suitably awed and impressed. It's simply jaw-dropping and a brilliant read.