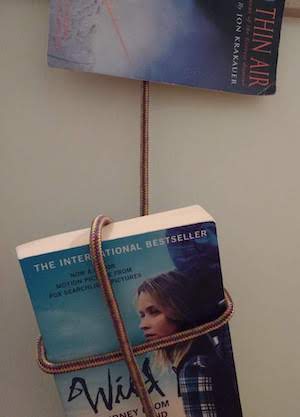 Reading makes me happy. When I can combine it with my love for the Great Outdoors, I am positively elated. This entwining of two wonderful things can happen two ways: by taking my books out into the wilderness, or by reading about the Great Outdoors while under a roof. Here I want to write about three books that deal with the wilds beyond civilisation. Each describes how humans interact with wilderness, and measure themselves against it, sometimes with tragic results.
Jon Krakauer is a professional mountaineer and climber. Into Thin Air is his account of a now notorious Mount Everest expedition in May 1996, in which he took part. The day the group tried to reach the summit seemed to present perfect conditions. But a storm overtook the struggling group and turned their expedition in a desperate struggle for survival. Krakauer gives the reader an amazing insight into the shimmering heights of the tallest mountain on Earth, and also into the incredible resilience of the human mind. Not an easy read, but really worth it, even if you've never been higher than Diamond Hill in Connemara.
Wild, by Cheryl Strayed, is a very different but equally personal tale. The death of her mother leaves Strayed feeling lost within her normal life. So, without any great experience in hiking, she decides to take on the Pacific Crest Trail. We follow her along its dusty paths and snow-covered slopes. Surrounded by the solitude of nature, she finds that she can leave guilt and fear behind. "How wild it was, to let it be." A beautiful book of loss, discovery and walking.
Finally, a work of fiction: Thin Air, by Michelle Paver. A young medic joins his brother on an expedition to climb Kangchenjunga, the third highest mountain in the world. Subtly and slowly, with each metre in altitude the brothers gain, something changes and dread creeps in. Paver has really done her research and the vivid descriptions of the landscape and the characters are riveting. But this is also one of the best ghost stories I have ever read. Be warned: you will see your backpack with very different eyes after reading it!
Even if you don't feel like putting your boots on and heading out into the wilds, you can let them come to you. Follow the many paths, each holding a different story — I promise you it will be worth it.