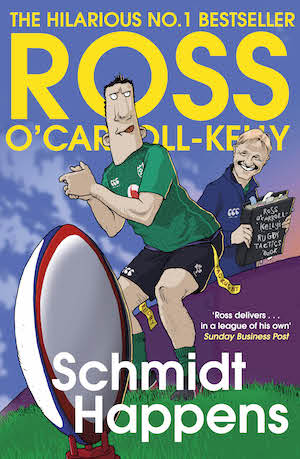 The World Cup is approaching fast — Schmidt is about to get real!
In the unlikely event that I don't make the squad as a back-up for Johnny Sexton, I'm going to be travelling to Japan to support Ireland right the way through to the final.
For those of you not lucky enough to have an ATM for a father, you'll probably be watching the matches at home. And I'm going to give you a few tips on how to get the most out of the experience:
There's supposedly a time difference between Ireland and Japan. In other words, when it's one time over there, it's a totally different time over here! Although I find that very hord to believe, most of our matches will be taking place in the middle of the morning Irish time. Here are some handy excuses to use on your boss when you don't show up to work on match days: "My dog accidentally unplugged my alorm clock." "A fortune teller told me not to leave the house if there was a Y in the day." "I have a hangover arriving in the afternoon."
Why not make the World Cup experience even more authentic by enjoying a traditional Japanese brunch in your own home! While Ireland has the breakfast roll, Japan has the sashimi roll. And while it provides far less soakage than sausage, bacon, egg and black pudding on a baguette, it's still a lot of fun — especially if you eat it with chopsticks in the 'Irish style'. In other words, using the ends of the sticks to spear the food, then trying to get it into your mouth before it falls onto the corpet.
Enjoy!
Ross