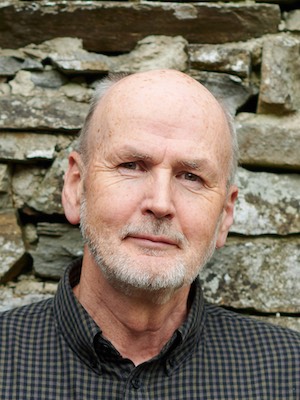 In this guest post, author Niall Williams discusses the inspiration for his new novel, This Is Happiness.
I am not the kind of writer who works out in advance what the book ahead of me will be. So, the truth is, I did not set out to write a novel about the rural electrification scheme. I set out to write a novel about the most electric time in your life, when you first encounter the two greatest realities of human existence, love and death. I had a sense that I wanted to write about youth from the vantage point of old age, when you have to come to an accommodation of sorts with the youth you were, and also because by then you have a lived knowledge of a vanished world.
I knew that I would set the novel in the west Clare village of Faha, where I had set History of the Rain. It is the place I know best, and the older I get the more compelling seems the truth that the whole of humanity can be found in a single parish.
Christine and I had arrived in our own west Clare village in the mid '80s, a world still of telephones with winders on the side, rosaries in the evening, and the giving of a day when your neighbour had hay to be saved. In conversation with people who I now realise were not that old, we heard many vivid memories of the coming of the electricity to the parish only thirty years earlier, of coming home from school and waiting impatiently for darkness to fall in order to try the switch.
I had grown up in Dublin, my father was Secretary of the ESB, and I don't believe I had ever thought that when I was born there were people on the other side of what is a very small country who had never plugged in a kettle or flicked a light-switch. The more I thought of it, the more it seemed to me a threshold moment. Halfway into the twentieth century, Faha left the nineteenth. And it did so overnight. The State entered the homes of the parish through a switch on the wall, and a largely cashless society would now have a monthly bill to pay. This transformational moment seemed the perfect setting for the one in which my young character, Noel, who comes from Dublin to stay with his grandparents in Faha during that momentous time, meets the three Troy sisters, and finds his world become, well, electric.
Niall Williams was born in Dublin in 1958. He studied English and French literature at University College Dublin before graduating with a Master's degree in Modern American Literature. He moved to New York in 1980 where he married Christine Breen, whom he had met while she was a Master's student also at UCD, and took his first job opening boxes of books in Fox and Sutherland's bookshop in Mount Kisco. He later worked as a copywriter for Avon Books in New York City before leaving America with Chris in 1985 to attempt to make a life as a writer. They moved on April 1st to the cottage in west Clare that Chris's grandfather had left eighty years before to find his life in America. His first four books were co-written with Chris and tell of their life together in Kiltumper in west Clare. He is the author of 9 previous novels including Four Letters of Love (currently being developed as a film) and the Booker longlisted History of the Rain. He has also written 3 plays produced by the Abbey, Peacock and Druid Theatres.