Martin Doyle tells us about his new read Dirty Linen The Troubles in My Homeplace…
Growing up in rural Co Down during the Troubles, I turned to books to understand the history and politics behind the sectarianism and violence. I never thought I would add to their number until I was asked to contribute to an anthology about being working class. 
Looking with fresh eyes at the parish where I grew up on the banks of the Bann in Co Down, I began pulling on a thread which led me from a derelict linen mill to an abandoned farmhouse, where a neighbour walked me through the rooms where two brothers and an uncle had been murdered while he was at Mass. He became my ferryman, helping me join the dots, the black spots where more than 20 people died violently in my parish.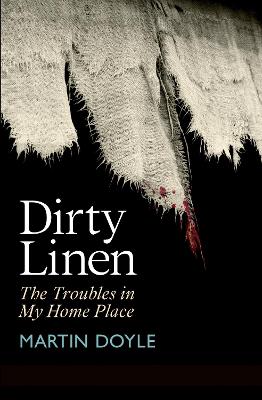 I share the stories side by side of the victims of republican and loyalist violence.
I would like to invite you to read the stories of my old neighbours such as Eamon, who was born on Remembrance Day and wants to know why we dwell on the dead of the First World War while his two young sons, murdered just after his daughter's 11th birthday party, are forgotten.
These are tragic stories, whose telling deeply moved me. But I also felt privileged to be in the presence of people whose resilience and undying love restored my faith in humanity.
The past is never dead, wrote William Faulkner, it is not even past. The British government just passed a Bill which shields its army veterans from prosecution, even as a former chief constable finalises major investigations into collusion between paramilitaries and agents of the state. Sinn Féin looks set for government on both sides of the Border, its leaders still adamant that the IRA's campaign was necessary and inevitable.
By focusing on a small community, John Healy's No One Shouted Stop! captured the devastation of emigration and Donal Ryan's The Spinning Heart the human cost of the Celtic Tiger's collapse. Dirty Linen seeks to do the same for the Troubles.
You can pre-order Dirty Linen by Martin Doyle on our website.