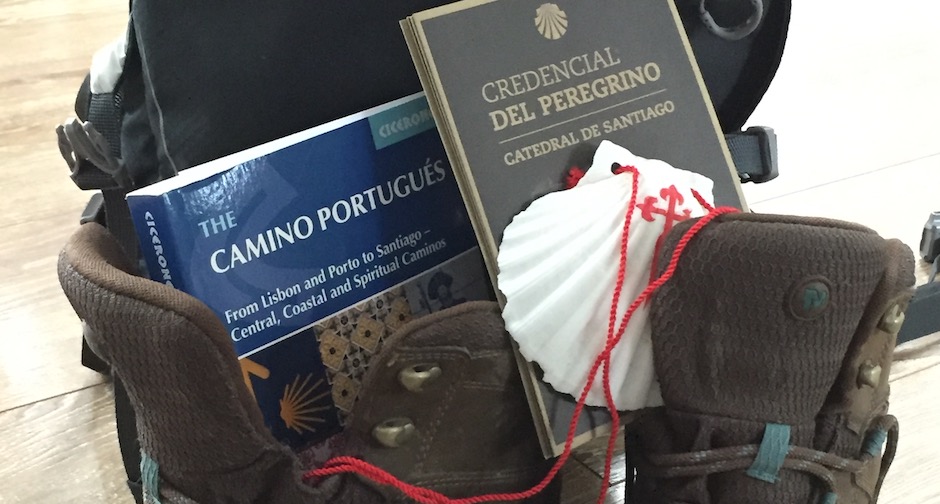 My decision to walk the Camino de Santiago this year is more an accident than a life ambition — Italy was my first choice, a trek in Trentino in northern Italy. But a change of holiday plan means that I am travelling to Porto instead. What better way to see this part of Portugal than to take the old pilgrim coastal route?
I am no pilgrim, but for a walker like me who can't read a map, taking the Camino route means there's little chance of getting lost. I'm told that I won't be travelling alone, that many others will be wearing out shoe leather alongside me, and that suits me very well — I look forward to conversations with strangers and hope that I can actually manage the 25 kilometres a day I have set myself.
Inspired by my hiking plan, at Dubray Rathmines we have grouped together an excellent collection of Camino maps and guides. The guidebook that will accompany me on my travels is The Camino Portugues, published by Cicerone. This is part of a Camino series which also includes The Way of St. James and even a guide to Cycling the Camino de Santiago. They contain plenty of maps and detailed information on towns and places of interest along the way.
For a more spiritual experience, John Brierley's excellent Pilgrim's Guides cover all the routes to Santiago: Camino Portugues, Camino Frances, and Camino Finisterre. These guides are very much for the serious pilgrim and contain reflections for the various chapels and grottoes along the way and space for writing in the pilgrim's own reflections too.
I am impressed also by the super-handy Michelin map guides, Chemins de Compostelle and Camino de Santiago. These ingenious guides consist of a map per page, showing a linear route map with the length and gradient of each section. Great value too at only €7.50 and particularly useful.
No Camino book collection would be complete without Buen Camino! by Natasha and Peter Murtagh, a daughter and father pair who chronicle their journey from Croagh Patrick to Santiago. Giving the viewpoint of each one along their journey, the Murtaghs share their personal stories as well as their experiences on the road to Santiago.
To complete our own Camino series in Dubray Rathmines, we have included mindful books for walkers and hikers which are small enough to tuck away into a corner of your rucksack. My own favourite will travel with me: Mindful Thoughts for Walkers, by Adam Ford, to remind me that walking is good for the spirit and encourages a quiet mind too.
So with just days to go before I set off, my organising is done and I just have to up my fitness game.