Along with books, music has always been one of my greatest joys. Putting these two great loves together was a no-brainer. My collection of music-related books has been growing, and while I don't claim to have read every book I own, some deserve a mention.
For many years, Patti Smith has been one of my favourite artists. Rising to fame on the New York punk scene in the 1970s, Patti produced her memoir, Just Kids, in 2010, a sublimely moving account of her life with talented young photographer Robert Mapplethorpe who died in 1989. In a style both poetic and restrained, Just Kids is the very best memoir I've read. Patti later wrote M Train and then Year of the Monkey to celebrate her 70th year. All three chronicle a life devoted to poetry and music.
Another excellent autobiography is Girl in a Band by Kim Gordon of Sonic Youth, an inspiring and informative look at the life of a young musician making it happen in a male-dominated world. This book deals largely with her disillusionment as her marriage to band-member Thurston Moore comes to an end, but is packed with anecdotes about the band on tour, the other artists who influenced her, and her friendship with Kurt Cobain. It also gives plenty of insights into how the band worked, their albums, and their songs.
A fan of Fleetwood Mac since the mid-1970s, my most treasured vinyl is Rumours, bought in 1977; the year it was issued. I avidly read Mick Fleetwood's autobiography Play On: Now, Then, and Fleetwood Mac, co-written with Anthony Bozza and published in 2014. His devotion and motivation are that of a true artist, but what comes as a pleasant surprise is the richness of his writing. It's all there: the crazy rock 'n' roll lifestyle that came close to destroying the band members but which ultimately brought us such a great catalogue of music. Play On details not only the many changes to Fleetwood Mac's line-up through the years but also how music has defined the life of Mick Fleetwood.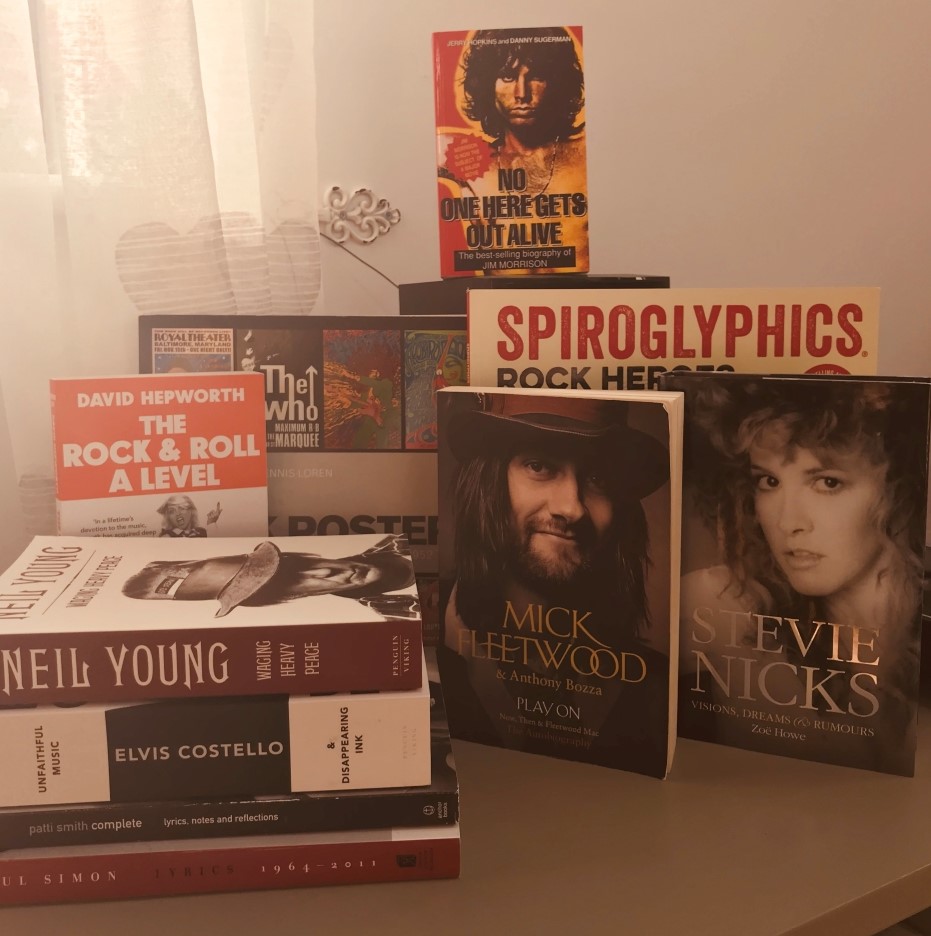 The next book that begs a mention is No One Here Gets Out Alive by Jerry Hopkins and Danny Sugarman, the story of reckless and powerful music genius Jim Morrison who died in mysterious circumstances in Paris in 1971. As lead singer of The Doors, he was worshipped by his fans and hated by the Establishment in equal measure. This biography describes how Morrison rose to fame, haunted by the media, and subsequently spiralled out of control, dying at just twenty- seven.
The most enjoyable music book I've read is 1971 – Never A Dull Moment: Rock's Golden Year by David Hepworth who maintains that this was the best year ever for rock music. For anyone with an interest in music, this is a fascinating log of the iconic albums produced during that period and the stories behind them—releases from The Doors, Carole King, Led Zeppelin, The Rolling Stones; the list goes on.Other great music biographies I haven't yet touched on include those from Neil Young, Stevie Nicks and Elvis Costello. So, despite the unexpected wealth of reading time Covid-19 has gifted us, it's safe to say I won't run short of suggestions.