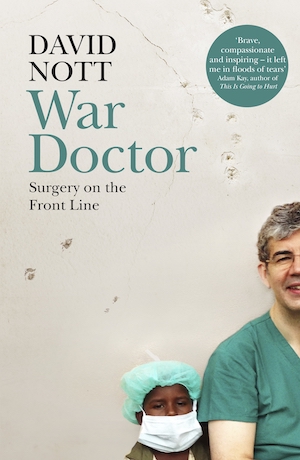 Despite being someone who has to be virtually at death's door to even contemplate visiting a doctor, I've read a fair few medical biographies recently: Brainstorm, Admissions, No Tears Left… Perhaps I'm subconsciously facing my fears from the comfort of my armchair, or maybe it's just a publishing trend that has me hooked. But one in particular completely blew me away and I'm encouraging everyone to read it — War Doctor!
Trauma surgeon David Nott describes his personal experiences whilst volunteering throughout the world in war and natural disaster zones. At least once a year he takes time off from his prestigious London-based clinics to volunteer in places that are frankly life-threatening. Not only does he perform surgical procedures in the most hostile environments, he does so whilst training local doctors to continue his work when he leaves. The training and education of others is so important to him that he has set up the David Nott Foundation to achieve just that.
Despite this apparent heroism, Nott is quick to point out his own failings and mistakes, making this book interesting on many different levels. Self-assured and confident in his surgical skills, his arrogance has led him to ignore rules — in such volatile landscapes this risked serious and dramatic consequences. He explains the reality of life on the ground from his own point of view without making political statements, leaving the reader to form their own judgements. He also provides details that are seldom reported in the newspapers. The writing is excellent — detailed and precise, which somehow creates more of an emotional impact.
This book left me heartbroken and angry, but ultimately thankful for my luck, good health and the Irish health care system, for all its flaws.