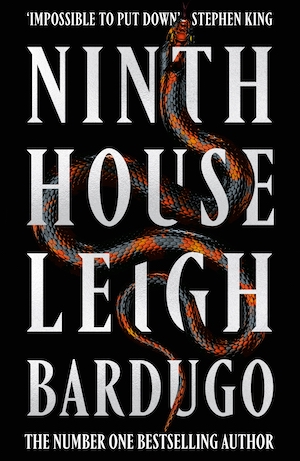 Leigh Bardugo is already well-established as a writer of teen and young adult fiction. Now she is setting out to take the world of adult fiction by storm with Ninth House. Coming laden with praise from stars of the horror scene such as Joe Hill and none other than Stephen King himself, Ninth House was easily my most anticipated release of the autumn. I couldn't believe my luck when I got my hands on an early copy.
The novel follows the story of Galaxy "Alex" Stern, high school dropout and problem child of a hippie single mother. Despite her sketchy background, Alex is recruited by a mysterious secret society. Her job? To infiltrate the shadowy circles of the elite students at Yale University, who are using dark magic to advance their interests. What makes Alex perfect for the job? She is one of a very few who can glimpse the other side of the veil that separates the worlds.
Bardugo's characters are just the kind I like to read about — messy and morally ambiguous. Despite their flaws (or is it because of them?) they spring to life on the page. They are so lifelike that it you can't resist rooting for their success and wellbeing, despite all their shortcomings.
To say that this novel is one of my newfound favourites barely scratches the surface of my enjoyment. Bardugo uses the realm of the paranormal to explore issues very recognisable in the mundane world. For the elite, morality and the natural order are no more than suggestions, not the hard rules that bind the many. The result is a visceral, spellbinding, gut-wrenching masterpiece that will haunt you long after you put it down.
Out on October 1st, this is the perfect dark read for the spooky season.
(Content warning: drug use, child abuse, date rape, blood, gore)