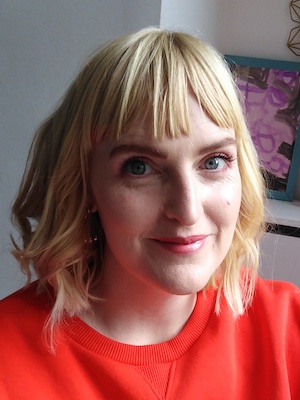 Sophie White's first book Recipes for a Nervous Breakdown, part-memoir/part-cookery book, was published in 2016. Mother of Pod, the successful podcast she hosts with Jen O'Dwyer, was launched in January 2018 and they launched a second podcast with Cassie Delaney, The Creep Dive, in January 2019.
Sophie lives in Dublin with her husband and two sons. Filter This is her first novel.
---
I was a late adopter of Instagram. I didn't download the app until the very end of 2016 by which time the high gloss influencer scene was firmly in place and an entirely new language of #blessed and #bestlives was the main mode of communication in this rose-gold corner of the internet. I was immediately enthralled by the pageantry of the everyday I saw playing out on the immaculately curated feeds of the so-called influencers — it was like a collision of reality TV and advertising where the people behind these accounts were both the stars and the product. I found myself immediately curious about the real lives of these women. What does it feel like to open your life up to the scrutiny of strangers? How did they cope with the trolling and the criticism, never mind the pressure to appear so perfect and happy all the time? And when you are effectively selling your life and your private moments online, what — if anything — is off limits?
Back then I was going through a difficult time. My dad was dying and, more and more, I'd find myself scrolling on Instagram for the pure relief of escapism. I began to recognise how seductive and addictive the app could be. The polished, attractive, filtered representations we post on our feeds can become a sort of stand-in for real happiness and contentment. Often it is so much easier to reveal and believe a heavily filtered and edited image than confront the very real pain we all face in our daily lives. This was how Ali Jones and Shelly Devine, the two main characters in my first novel Filter This, were born. 
Ali and Shelly are two very different women who are both in denial about their lives. Shelly is Ireland's biggest influencer and seems to have it all, at least on the 'gram, but beneath the surface of her perfect-looking life, cracks are starting to appear. Meanwhile, Ali is a wannabe. She fell into the scroll-hole when her beloved dad became ill and, as her twenties continue to be vastly underwhelming in terms of career and relationships, she has become more and more consumed by her online life. When she inadvertently leads her followers to believe she is pregnant and the error immediately begins to pay off in followers and #sponcon, she makes the seriously questionable decision to roll with it.
Instagram is a richly comedic world. When writing the novel, I often worried that I was going too OTT with some of the Insta-isms but, in many ways, it is a scene almost too ridiculous to parody. I'd devise a bonkers plot then I'd google it only to discover some influencer had already pulled off such a stunt. There are countless stories of Insta hoaxes, most notorious of all is the story of Belle Gibson, an Australian wellness influencer who faked cancer. While Gibson is on the extreme end, I do think when we are routinely editing our faces and chopping off whole chunks of our body in FaceTune, one could argue it's a slippery slope into all-out lying.
Filter This is not a call to unplug or disconnect. It's not a takedown of the people who earn their living on Instagram – or those who enjoy it, personally I'm still bet into it on the daily! Foremost, this is a story about denial and how attractive it can be to simply put a filter on everything and forget the hard stuff.
Personally, I think Instagram is an amazing space on the internet – it's beautiful, it's motivational, it's fun and funny. I've made great friends there and found great pockets of brilliant women doing exciting, interesting things.