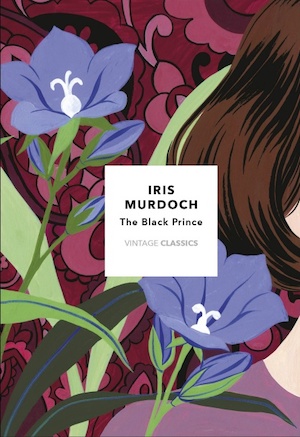 Over the years, I have read many of Iris Murdoch's twenty-six novels. But I still remember the one that drew me in, that led me down the path of excitedly searching library shelves for more stories from this magnificent author. That was her fourth novel, The Bell, set in an enclosed lay religious community where people were "imprisoned" of their own free will. Here I encountered characters the likes of whom I would never expect to meet in my own life. But The Bell was not only rich with these impulsive, unpredictable characters but also with philosophical argument.
Iris Murdoch was born on Blessington Street, Dublin, in July 1919. Although her Protestant Anglo-Irish family moved to Britain while Iris was a young child, she always considered herself to be Irish. Childhood summer holidays were divided between Dublin and Northern Ireland, where her father's family lived. She wrote about Ireland in two of her novels, The Unicorn and The Red and the Green.
Murdoch was first and foremost a philosopher, although the success of her novels often overshadowed her philosophical work. She brought her own interpretation of Plato to multi-layered stories, with characters who found themselves in complex moral dilemmas. She believed strongly in the good, courageous, affirmative side of human nature.
While I loved the moral philosophy in her novels, it was the characters that appealed to me most. Usually we meet them in moments of crisis. Their chaotic lives are wrought with drama and unexpected acts — in The Black Prince, Julian flings herself from a moving car to prove her love. Charles Arrowby, in The Sea, The Sea, decides to become a hermit so that he can learn to be good, but instead becomes as bad as he can possibly be.
Iris's descent into dementia as a result of Alzheimer's disease is touchingly documented in the memoirs of her husband, the critic John Bayley. These memoirs later formed the basis for the film, Iris. But I prefer to remember her as she is in her portrait in the Tate Gallery in London.
In the centenary of her birth, I am so happy to see some of these masterpieces reissued in beautiful new editions from Vintage Classics. For me, it's like meeting old friends, some I remember fondly (The Black Prince), some less so (although it won the Booker, I have never got on with The Sea, The Sea). Hopefully these will soon be joined by Henry and Cato, A Fairly Honourable Defeat, The Good Apprentice, and all my other favourites. I look forward to rereading them all, and to seeing a new generation of readers discovering Iris Murdoch. She was truly a writer for any era.