Marie Cassidy shares how she came about to write her new read, Body of Truth.
One of the most important skills we can teach our children is reading. But it shouldn't stop there, we should encourage them to read for enjoyment. It doesn't matter how we do that, but reading material should be accessible, be that comics, graphic novels or your good old fashioned book. There will be something that will grab their attention.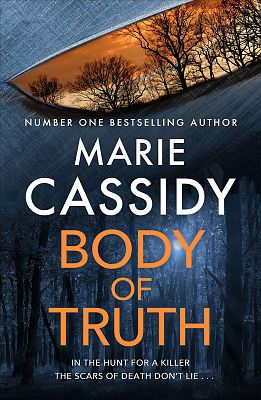 We can be a bit snooty about others reading material but a good story is a good story, be it fact or fiction, short or long. My saviour was the library, so many books I didn't know where to start, but good old Enid Blyton started my journey with the adventures of the Famous Five. Once I had devoured these I moved on to Nancy Drew and her mysteries, and I was hooked. It was only a matter of time before I discovered Agatha Christie and my love of crime thrillers began in earnest. I eventually updated to modern times, embracing the Scottish crime writers such as Ian Rankin, Val McDermid, Chris Brookmyre (comedy and crime, what's not to like), Alex Gray, Peter May and Denise Mina and an abundance of others. When I moved to Ireland a huge bonus was finding new authors, Alec Barclay, John Connolly, Liz Nugent, Tana French, Jane Casey and Sam Blake, to name but a few.
My choices are only limited by the hours in the day. With these greats in mind it was with some trepidation that I decided to dip my toe in their literary waters, hoping that having read so many of these 'greats' something might have rubbed off. They are masters of their craft and what they don't tell you is that it isn't that easy. I doff my cap to them, one and all. They say write about what you know and all I know is crime and death so I hope that is enough to enthral the readers of my book, Body of Truth. My difficulty was relaxing the rules of death investigation to allow the story to progress beyond the normal constraints on the role of the forensic pathologist. I leave it to the reader to judge if I was successful.
You can pre-order Body of Truth online.