Courtney Smyth has written a lovely blog for their new read, The Undetectables.
I have always loved two things: reading, and forensic science. In the case of the latter, I found the mechanics of it fascinating, and that fascination has only grown with age (I did briefly harbour a desire to pivot into becoming the next state pathologist, but ultimately, at the age of ten, came to the conclusion that being an author was more my speed). For the former, I read everything I could get my hands on, diving into fantasy world after world, borrowing the maximum number of books from the library and inhaling them all long before my next visit. Even still, it didn't occur to me until late 2019 that I could combine my two interests – fantasy, and crime – in my writing, and started nursing a kernel of an idea. Although it wasn't even really an 'idea' so much as it was 'three witches who are also detectives, and there's some forensic science involved', that idea eventually became The Undetectables.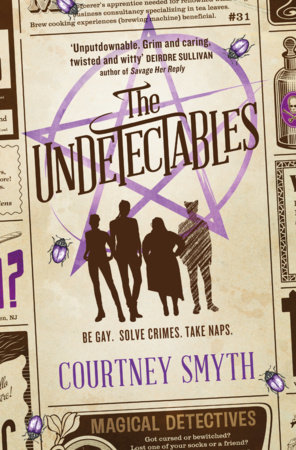 The story centres around Mallory Hawthorne, an aspiring forensic scientist and a lapsed witch who feels very stuck in life since being diagnosed with fibromyalgia – a widespread chronic pain condition. She's thrown back into the world of the Undetectables, a private investigation agency she and her best friends Diana and Cornelia started when they were kids, and must use magical forensic science to solve the case of the serial killer known as the Whistler as bodies stack up around them.
I wanted to write a magical world that was warm, accepting and comforting – except for the murders. It's a world where everyone is accepted as they are, and Mallory learns how to process the grief that comes with becoming disabled, all while unravelling a whirlwind mystery. I hope that readers thoroughly enjoy their visit to Wrackton!
You can now pre-order The Undetectables by Courtney Smyth on our website.