Sometimes my book ideas start with plot and sometimes they start with a character.
Don't Look Back has a little of both.
I had this wonderful opener in my head: Rose and Luke Miller are a couple on a belated, spontaneous honeymoon in paradise and on the last day, Rose tells Luke they can't go home. There's a dead body in their apartment in London and she put it there.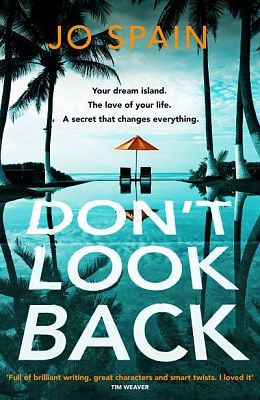 I quickly figured out the reason for the body and who he is, but this couldn't be a one person story. I needed to introduce another character who could do work on the ground, this time, back in London.
Mickey came to mind, an Irish woman who used to work as a barrister defending women who'd been subjected to domestic violence. She's a feisty, courageous, strong woman who gave up on the law because it continually let women down.
Mickey works outside the lines now, running her own business where she covertly helps women escape from violent situations. She's aided by Elliot, a computer genius and handy sidekick, whose own sister was badly abused by her partner.
I had the plot, I had the people and I needed a place. That's when I came up with the fictional Caribbean Island of Saint Thérèse.
There's no mystery here as to why I decided to set this thriller on an island paradise. The plot started to form in my head over Covid, when like everybody else, I was unable to travel. Physically, at least. In my brain, I was lying on this island's white sandy beaches under palm trees and drinking exotic cocktails in beach hut bars. And killing people, obviously. The joys of being a crime writer.
Don't Look Back is a psychological thriller but it's grounded in a very recognisable scenario. When you look at the research behind female killing, it's usually in self-defence and often related to abusive partners. I had to treat that issue as sensitively as possible. But of course, that's just one piece of the puzzle. Like with all my books, the reader should start the book believing one thing and by the end, realise that I've been directing them to the wrong conclusion the whole time.
I hope I've managed to achieve that again with this book and that readers like it as much as my others!
You can now pre-order Don't Look Back by Jo Spain.