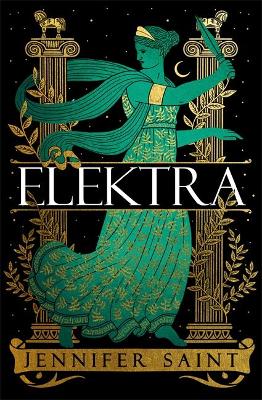 "Can't you see that it just goes on, over and over? The gods demand their justice, but we suffer for it, every time." – Jennifer Saint, Elektra.
The House of Atreus, cursed from one generation to the other. A bloodline tainted by violence, brutal betrayal and merciless revenge. From the moment Tantalus tricked the Gods, a war was decreed against his progeny. Death casts its shadow on the noble household and no one is spared the wrath of the Gods. As famed warriors Agamemnon and Menelaus begin battle against Troy, who is left to bare the burden of Atreus' curse? Mothers, daughters, sisters and wives.
"I wondered how many of them had wives waiting for them, mothers and daughters perhaps. What would those women think if they could see their menfolk, as they stood guard over us, the weeping, grieving survivors of Troy?" – Jennifer Saint, Elektra.
Author of bestselling Ariadne (2021), Jennifer Saint returns with another outstanding Greek mythology novelisation. Truly one of my favourite literary genres is Greek mythology retellings, and I struggle to think of any other context in which I could happily read the same story over and over again, committing these tales to memory and finding comfort in the familiarity of these fabled names, places and adventures. It's a genuine pleasure to experience these characters anew through varying voices and perspectives prescribed by each author. Saint is quickly becoming one of my favourite new authors within this genre. Ariadne was brilliant addition to the growing trend of elevating the forgotten (and often wronged) women of Greek mythology, revoking the centuries long tradition of stifling women's stories.
"What I did not know was that I had hit upon a truth of womanhood: However blameless the life we lead, the passions and the greed of men could bring us to ruin, and there was nothing we could do." -Jennifer Saint, Ariadne.
I was very lucky and very excited to receive a proof copy of Saint's newest release Elektra (April 2022), and true to form, I have been blown away by the beauty of her prose and the eloquence of her narrative. Told from various perspectives, we are offered an insight into the lives of the women on the periphery of the Trojan war; Clytemnestra, Agamemnon's wife and sister of infamous Helen; Elektra, his dutiful daughter; and Cassandra, Trojan Princess, cursed prophet of Apollo and sister of untoward Paris. In contrast with a similarly themed novel, The Silence of the Girls by Pat Barker, which very much centred the women embroiled at the centre of the Trojan battle, Elektra highlights these marginal figures set beyond the conflict. However, the curse of Atreus weaves its web of destruction between all three ill-fated women.
From the first page I was just engrossed in this novel. The Trojan War is a story I've heard and read time and again, heroes, adversaries, Gods, battle, etc. What I found most refreshing and gripping was being introduced to more of the "behind-the-scenes" elements, so to speak. Clytemnestra's relationship with Helen in their youth, the condemned journey of Iphigenia to Aulis, the blossoming revenge plot of a grieving and vengeful wife. I was sheathed in the familiarity of the Trojan War while also becoming immersed in new and previously unexplored territory – the dream of any Greek mythology enthusiast!
Available from 28th April, Elektra is stunning second instalment from one of the newest but definitely most auspicious voices in Greek mythology retellings. Imbued with a genuine passion and understanding of her characters, and enhanced by the rich poetry of her language, this is effortlessly accessible for both those comfortable within the world of Greek mythology and those less versed in the classic narratives. I'm already counting the days for Jennifer Saint's next move in the mythology genre!