We are delighted to share a piece by American author Peter Swanson, for his new book, The Kind Worth Saving. Best known for his psychological thriller novels. This is the sequel to his Kind Worth Killing but can be read as a stand-alone.
As you may already know, at Dubray we have an appetite for this genre. We love stories with a hint of mystery, thriller and of course crime. We suspect this read to be a particularly devious one as it opens with a private eye meant to follow a possibly adulterous husband, only to lead him back to the woman who hired him…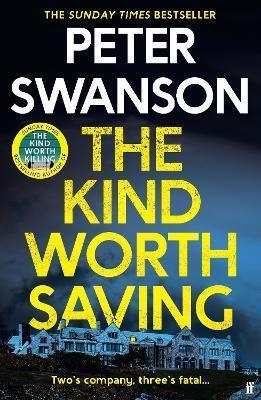 Below are a few words written by the author discussing his inspiration behind his new title; The Kind Worth Saving…
A few years ago I read Ripley Under Ground, the first sequel to Patricia Highsmith's masterpiece The Talented Mr. Ripley. Highsmith wrote it fifteen years after the first book came out, and what I love about the sequel is how tonally and plot-wise, it's a completely different book than the first one. The only connection, really, is that Tom Ripley is the main character.
That book got me thinking about writing my own sequel to The Kind Worth Killing. I very much wanted to return to two characters from that book—Lily Kintner, a rather practical murderer in the Ripley vein, and Henry Kimball, a poetry-loving detective. So I found a way to drop these two into a brand new plot. I told myself it wasn't a sequel so much as a return to two characters I love to write. You don't need to know the plotline of The Kind Worth Killing to jump into The Kind Worth Saving, a book that tells its own story. It was a pleasure to write this sequel and a bigger pleasure to return to Lily and Henry. I'm already plotting more stories they might drop into…
This is now available to order on our website.