Valentine's Day has come again. Cherubs are careening through the air, plucking their bows like single-stringed lyres of love. While there are those who live for love stories of all shapes and sizes, there are some who don't, yet manage to embrace the spirit of romance in their own way. 
This blog is perfect those who are looking to find love in unique places, time periods, across the world, with a touch of science-fiction and fantasy.
The name of the game here is Romantasy; a mix of romance and fantasy. These books are either plot driven and feature romances, or are driven by those romances, showing love in ways that are endlessly fascinating.
So why not take a new adventure in another world, while staying true to that romantic ideal. Below is a list of love stories that I would recommend.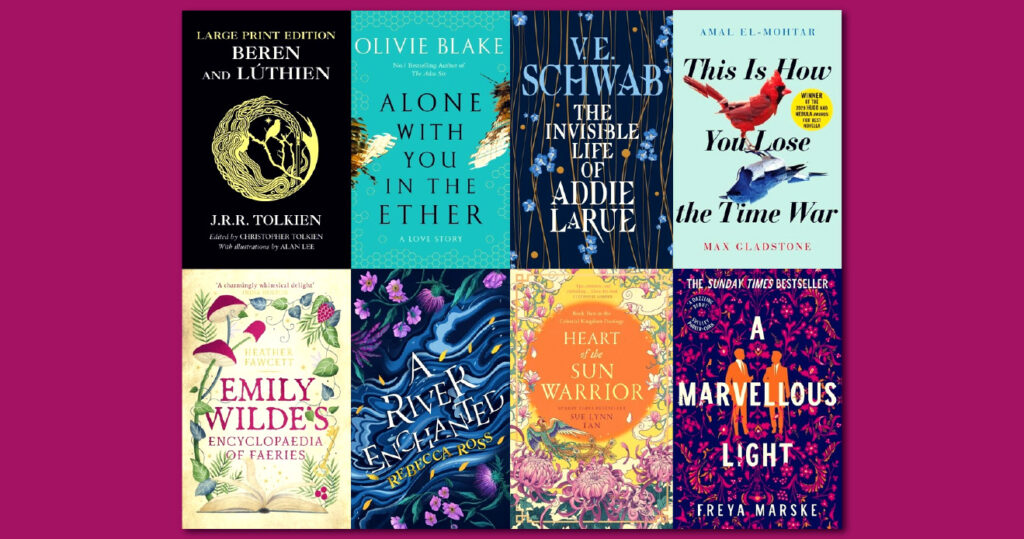 ALONE WITH YOU IN THE ETHER – OLIVIE BLAKE
Regan is bored of life, so she follows every impulsive life-tangent that presents itself, imagining a multiversal sprawl of new timelines for every rash decision she makes. Aldo, living with crippling uncertainty, keeps himself moored by rigid routines and frameworks to give him some tenuous grip on reality.
Blake has captured the hearts of many with The Atlas Six, and its sequel, The Atlas Paradox, but here she explores mood disorders (which she also struggles with), the rejection of medication, and the struggle of attractive opposites. Regan and Aldo truly strive to understand each other completely, which is what makes this love story so endearing.
EMILY WILDE'S ENCYCLOPAEDIA OF FAERIES – HEATHER FAWCETT
A delightful novel of scholarly pursuits, wit, and whimsy. Fawcett deftly combines fantasy, mystery, and history, with a dash of romance to tie it all together.
Emily is joined on her expedition to Hrafnsvik by Wendell, a fellow faerie enthusiast, and her token "it's complicated" acquaintance. They both get mired in the strange atmosphere pervading the town, whether it's the evasiveness of the town-folk, or the Fae's behaviour not lining up with what they thought they knew. Emily and Wendell are positively opposites, but that makes their (let's face it) inevitable liaison vastly more dynamic.
This will ensnare anyone with an interest in folklore, Wildean banter, or the escape that one finds in discovering a hidden world, when the one you have doesn't quite fit.
THE INVISIBLE LIFE OF ADDIE LARUE – V.E. SCHWAB (LGBTQ+)
Right up there in the literary canon with a love story is the Faustian pact. Addie, many lifetimes ago, decided all she wanted in the world was more time, to see the world, and defy narrowminded expectations set on her, according to the standards expected of a young woman in 1714 France. Alas, a deal was struck, and Addie has all the time in the world to come to terms with what it cost her. A life of anonymity, not even the merest ripple across the surface of history – a history that she has witnessed so much of. That is, until she meets Henry 300 years later….
This is a powerful book that's left a lasting mark on an untold number of readers. Also, it's worth noting that in these Faustian tales, the proverbial devil usually vanishes into the night, and our main character is left with the consequences. But Addie's continuing and heavily unbalanced relationship with Luc (her devil) is rife for examination.
DAUGHTER OF THE MOON GODDESS & HEART OF THE SUN WARRIOR – SUE LYNN TAN
An astonishing duology that takes inspiration from the tale of Chang'e, the moon goddess of Chinese mythology, and is padded out with wondrous adventuring, which flies by in a dreamy haze.
Xingyin is our titular character who, beginning to realise her power, compromises her safety and anonymity to run away and leave her mother behind. In doing so, she tumbles headlong into court politics, deceit, and you guessed it, love. Though it wouldn't ever be quite as easy as that, would it? Nope. An edgy triangular love story that have a sort of ethereal flow to them, offering an effortless escape from the real world.
THIS IS HOW YOU LOSE THE TIME WAR – AMAL EL-MOHTAR & MAX GLADSTONE (LGBTQ+)
Red and Blue are time-travelling agents, acting on behalf of their respective and massively-miffed-about-each-other organisations to eradicate the other from the timeline. But a dialogue (and much else besides) begins to open up between them through notes and correspondences to each other, left behind in the aftermath of a mission. Romance is the major component, yes, but the intrigue lies in the way it's elevated to this one universal constant where time and space are made malleable.
El-Mohtar and Gladstone each wrote one of the two protagonists, which gives agency to our two characters, and a distinct credibility to their budding relationship.
A MARVELLOUS LIGHT & A RESTLESS TRUTH – FREYA MARSKE (LGBTQ+)
Earnest young fellow and baronet Robin Blyth blags his way into being appointed a liaison to a secret magical society, unlocking in his mind a whole other layer of reality that most of the world hasn't the foggiest about. But as with all secret societies, there are deeper and darker secrets to be discovered, and those who murder most effectively to avoid such discovery. But his society counterpart Edwin will begrudgingly provide all the help he needs. And maybe a little else on the side…
The magical intrigue spin on this story makes for an enormously entertaining read.
A RIVER ENCHANTED – REBECCA ROSS
Enchanting is certainly the word for this one. This story goes from trickle to torrent before your very eyes. Ross draws from Scottish folklore on this one, doing our Gallic brethren proud. It lends the setting a rich, edgy atmosphere.
Jack, a bard and a talented harpist, is called home after what seems like a lifetime, to wrangle the unruly spirits of Cadence into finding missing girls. Spirits answer only to a bard's music; to everyone else, they offer paranoia and looming doom. Reluctantly, Jack must partner with Adaira, his laird's daughter, and childhood mortal enemy.
Who doesn't love two frenemies whittling away at each other's ill-conceived notions and finding something equally intense underneath? Although, the fairy tale vibes and classical, melodic prose should be enough for any mere mortal.
BEREN AND LUTHIEN – J.R.R. TOLKIEN
Part of the beauty of this tale, and a source of deep resonance for those in the know, is the inspiration it takes from his life and love, with and for, his wife Edith. Luthien's father imposes an impossible task on Beren to be worthy of her, not unlike Tolkien leaving for war. Luthien has to weigh up her immortality against her love for Beren, not unlike Edith converting to Catholicism when they finally married. I could go on, but that's what the book is for.
In many ways, it acts as a precursor for Aragorn and Arwen from The Lord of the Rings, and a precedent that gives them some hope for their own love.
Tolkien's son, Christopher, has played a vital role as custodian of his father's works. Without him, there would have been no Silmarillion, which this story is lifted from. This tale deserves the greater contextual understanding it's given here, certainly in terms of the history of Tolkien's writing of it, and how it developed over time.
You can also view our entire Valentine's Day love stories recommendations here.