Catherine O'Keeffe, Ireland's Menopause Expert, talks about what led her to write her new book All You Need to Know About Menopause.
I have learned so much from the thousands of people I have worked with over the years, and I have always wanted to share that information with more people. How could I condense what I have learned to help others? A book was the answer. I love to see new books on menopause coming out, as they all approach it from a different angle, with a different view. I hope you will find this book different in its own way. The numerous stories I have been humbled to hear, the women who have helped me to learn more, the people who have asked for help for their partners, the questions that have led me to delve further and find answers to share with you – it all culminates in these pages.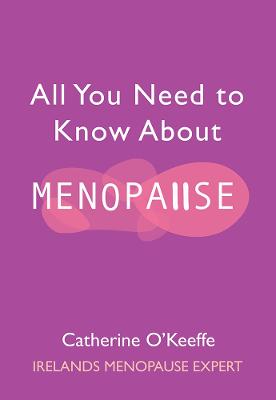 I am a woman on a mission to get information about menopause out there. I'm here to help you understand what is happening and provide answers to the questions you have. The book is designed for readers to be able to dip into, so each chapter can be read in isolation.
With menopause, symptoms may change from month to month – I have worked with women who have had hot flushes to beat the band for years that then stop, only to be replaced by brain fog or another symptom. This book will provide informed, factual advice on the steps you can take as different symptoms appear.
I also included an aspect which I believe is very important – a chapter for your partner. Menopause not only impacts the person going through it, but also those you touch off, and often they can be in the dark as to what is happening, so it is important that they also understand what is going on in their partner's life. Over the years so many partners have emailed or called me asking where and how to start – I hope this chapter sparks that flame.
All You Need To Know About Menopause by Catherine O'Keeffe is available online.