Anatomy: A Love Story by Dana Schwartz is our Teen Recommended Read for October, but an enjoyable read for anyone interested in gothic tales of horror, mystery and dark academia.
Murder. Romance. Horror. Edinburgh, 1817. Hazel longs to be a surgeon instead of a wife. Jack is just trying to survive in a city full of death. But something far darker than resurrection men lurk on these streets. A gripping, gothic mystery with a fierce heroine and a dark academia vibes.
It begins with a quote from one of the creators of horror and science fiction itself, Mary Wollstonecraft Shelley. The writer of Frankenstein, the original goth girl. To examine the causes of life, we must first have recourse to death..
Anatomy has a fierce, original heroine-the wily Lady Hazel Sinnett-who is determined to defy social norms and pursue a career as a surgeon.
While anatomical dissection would ultimately go on to transform the medical profession, the tactics and methods used to procure these bodies were dubious in their time, let alone today. Grave-robbing was a genuine fear for many Victorians, who scrimped in order to ensure their loved ones had ostentatious tombstones and remained safely entombed after death. Evidence of this can still be seen across Edinburgh today.
Mary Shelley herself was fascinated by the scientific theories of Aldini and Galvani regarding the reanimation of life, ultimately leading to the creation of the monster in Frankenstein. Written when Shelley was only 18, Frankenstein still fascinates people more than 200 years after its original publication. Considered one of the first modern science fiction novels, it addresses similar topics to Anatomy including loss, guilt, bodily autonomy, and social isolation. For more information on Mary Shelley, the creation of Frankenstein and her equally fascinating mother, check out Romantic Outlaws by Charlotte Gordon.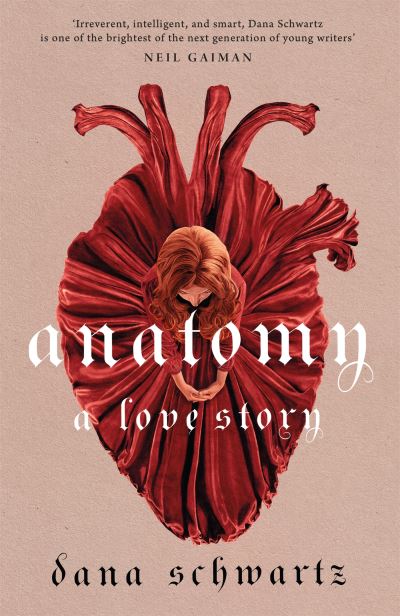 Thankfully for readers like myself, Anatomy isn't too heavy on science, but remains a deliciously enticing Gothic tale set in the dark streets of Edinburgh, a place strife with death, disease and murder. Hazel is eventually joined by the stubborn and resilient orphan Jack, who has begun to moonlight as a resurrection man in order to get by. After an unlikely meeting these two end up helping each other in ways they didn't expect, ultimately bringing Hazel much closer to some of the legendary surgeons she so admires…
Schwartz deftly intertwines these dark academic undertones with murder, intrigue and a creeping sense of horror that gently envelops us while also bringing in a touch of romance and fantastical supernatural elements. She also throws light onto some of the atrocities that have been committed in the name of science. The first of this duology (the sequel is due out in February!) is a provocative, atmospheric and consuming read, just in time for Halloween.
Hazel Sinnett is an original, ambitious and budding young scientist who's hungry for knowledge, resourceful and steadfast in her fight for the right to study medicine, as well as greater moral and social causes which unfold through the novel. She guides the reader through the mysterious, labyrinthine streets of Edinburgh, and learns more about herself in the process.
Another timely and brilliant YA novel featuring a strong female protagonist is the Waking the Witch by Rachel Burge. This atmospheric, lyrical feminist mystery is steeped in horror, folklore, and Arthurian myths and legends.
As the leaves start to change and the darkness continues to grow each day; some books seem to particularly suit this deliciously atmospheric time of year. Following Anatomy I read Monster, She Wrote by Lisa Kröger and Melanie R. Anderson. This book is a fantastic blend of biography and readers guide to the wide range of gothic, horror and speculative fiction books created by women who pioneered these genres like Shirley Jackson and Helen Oyeyemi.
The gothic setting, and stark depiction of Dickensian Edinburgh in Anatomy also remind me of the extraordinary new book Ordinary Monsters by J. M. Miro. This debut is a haunting, riveting mixture of magic and supernatural terror featuring a group of gifted children in a dark Victorian world.
Whatever you choose to read during this spooky time of year, Happy Halloween or Oíche Shamhna shona daoibh!