Chris is an award-winning artist, illustrator, and author, known for his bold, colourful style. Chris's new book is Cloud Babies, is out now. Cloud Babies is a gorgeous picture book, sensitively told by Eoin Colfer and vibrantly brought to life with Chris's illustrations. It tells the story of Erin, whose favourite game is spotting animals in the clouds with her mam and dad. When she struggles to readjust to home and school after a long hospital stay, her cloud babies become a source of inspiration and comfort to her, and she finds happiness in being herself once more.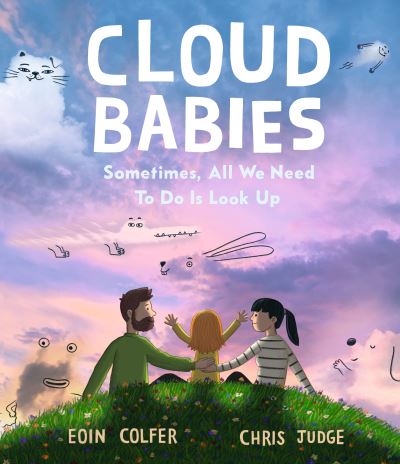 What was most important to you about illustrating Cloud Babies? The first thing for me to do as the illustrator on this project was to try to bring my established 'A Daily Cloud' artworks together with a style of illustration that would complement the cloud images. The Daily Cloud artworks are very simple line drawings over photographic images of clouds and landscapes. We made dozens of samples and tests at the start of the project which didn't sit right with the clouds until finally we arrived at a style that we all liked. It was also very important to me that the characters and backgrounds were brightly coloured and soft as this is such a sensitive book. Once we had all of those things in place I was free to start sketching and painting the illustrations for the book which was incredibly rewarding.
Which Irish author inspires you most and why? I have been a huge fan of Flann O'Brien since discovering him as a teenager. The Third Policeman arrived in my life the same summer as bands like the Pixies and Sonic Youth and my whole world was turned upside down culturally in the space of a few months. Flann O'Brien inspired me to start writing stories, making comics and music with my friends, and that still filters down to what I do today.
What new Irish book are you most looking forward to reading over the next few months? I am really looking forward to reading Manchan Magan's new book Listen the Land Speak, it sounds like a magical historical exploration of the Irish Landscape. I am a big fan of his previous two books which were both brought to life beautifully by Steve Doogan's illustrations.