Sally Rooney's excellent novel Normal People has shown us what friendship, romance, and growing-up really looks like in all it's ugly raw reality. Once the brilliant TV series also finished, I was left with a Marianne & Connell-shaped hole in my life that I struggled to fill. Like the rowdy neighbours opposite us, I didn't necessarily like them, but I enjoyed their presence in my life all the same, and was transfixed by their messy relationship. I struggled to find something that gripped me in the same way, starting books and leaving them back on the shelf unfinished. That was until I found Jan Carson.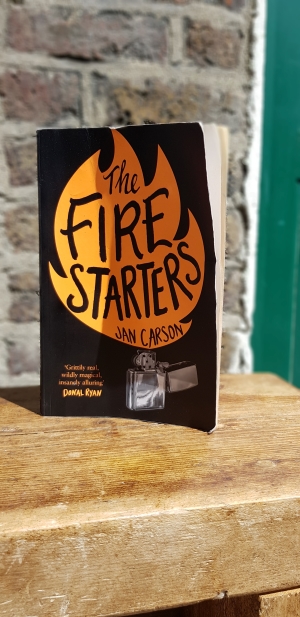 Whilst participating in this year's Read Irish Women Challenge I was reminded that I had a copy of Carson's Postcard Stories.  Every day in 2015 she wrote a mini story on the back of a postcard and sent them to various friends; this book is the 52 highlights selected from them. Succinct, witty, odd, and full of little observational details, I fell in love with them and Carson's distinct voice. Her novel, The Fire Starters, was my obvious next read.  
From the beginning, Carson immerses us in her native Belfast with cultural references, colloquialisms, and precise locations. This novel is a fantastic representation of Belfast in all its wonderful and contradictory glory, but it is the people who live there that really shine out of the page. The novel follows two colourful and complex characters, Sammy and Jonathan, both fathers struggling to do right by their children who are dangerously challenging. Their stories intertwine and affect each other, as would any neighbours', but especially those living in such a small and intense city. These are not normal people or normal times, the main characters are not deserving of your sympathy, but their pull is as enticing as a lamp to a moth. The pressure increases throughout the novel, mirrored by the atmosphere in the city, and holds the reader captive throughout, and now I am left with a deeper and stranger-shaped hole to fill.
Here's hoping someone will soon also make a TV adaptation for us to enjoy as, like the novel, it would surely be a compelling and visually stunning piece of art.