Small Things Like These by Irish author Claire Keegan is one of the six-strong shortlisted books for the Booker Prize 2022. There are various reasons as to why this belongs here. Being the shortest novel with 116 pages, Keegan tells a tale that speaks volumes. Her novella is a simple story that delves deep into the conscience of a man and the conditions of the Church and the state.
Set over a short span, the novel opens in the month of October and leads  up to Christmas. She quickly introduces us to our protagonist Bill Furlong and switches between his present and past providing the reader with an insight to his conflicted childhood, including his unwed teen mother, who was a live-in maid with Mrs Wilson, a kind Protestant widow.
Just like most of Dicken's characters, over time Bill climbs the ladder becoming an unflagging coal merchant, marries Eileen and has five daughters. He has a tiring routine that often dampens his spirits and he wonders if there is more to life. A man like him must keep his head down and be on the right side of people, to ensure his girls' success at St. Margaret's.
It is during Christmas that we are met with our antagonist – Good Shepherd Convent where he encounters a frail woman trapped in the coal shed, whose fourteen-week-old baby was taken away. Mother Superior ushers him away by offering an extra bonus. Eileen is thrilled. However, he is left unsettled by the woman's plight.
This encounter throws light on the Catholic institution, which is supposed to uphold, love, charity and faith, however at its core it runs a laundry business, housing women who were, "being reformed, doing their penance washing stains out of dirty linen.", are exploited and abused with unpaid labour.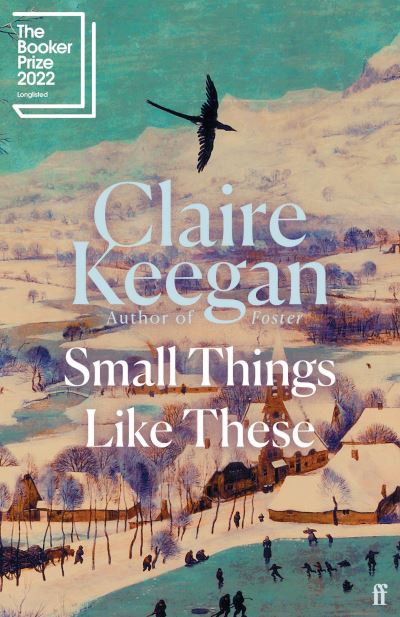 Although Small Things Like These is a fictional story, written in close-third narrative style, it explores the protagonist's mind and his emotional universe. Being a true novella, Keegan plays with what is left unsaid – an exploration of the minutiae of man's conscience and the complicity during the operation of the Magdalene laundries. It mediates over a grim chapter of Ireland's past when these institutions were run by the Church and the Irish State.
Just like A Christmas Carol, this is a spiritual journey for Bill. The elegiac novella not only focuses on exposing the Church but also helps us study the moral sense of a man attempting to not take the safer course. Like a Charles Dickens' character, Bill is on a pathway that provides him with a complex and nuanced inner life. Anxious about his decision, he envies the river and says, "how easily the water followed its incorrigible way.''
His encounter forces him to confront his past and the silences controlled by the Church. We are uncertain how Bill's act of courage is going influence his daughter and his wife. "He found himself asking was there any point in being alive without helping one another?" It reminds us that the real miracle in any season is courage.