Who was Juanita Casey?
Here at Dubray we have loads of Irish Fiction. The Horse of Selene – An Irish Fictional novel by Juanita Casey is one such that we would recommend. Juanita was a writer, artist and a horse breeder who lived the archetypal bohemian life. She has written poems, novels, and short stories about her life on the island of Ireland and predominantly her reads are classified as Irish fiction. Her writing has won her fans on both sides of the Atlantic – Britain, Ireland and the United States. Rich with imagery and a deep understanding of the human condition.
About The Horse of Selene
Being an Irish fiction novel, Horse of Selene explores the social changes and freedom of youth experienced in the 1960s. The novel first appeared in 1971, set on the fictional Irish island of Aranchilla. This very Irish fiction novel delves into the romance between an island farmer and a free-spirited Gypsy. It deserves to be rediscovered as a celebration of the nomads' challenges in an environment of the anti-traveller.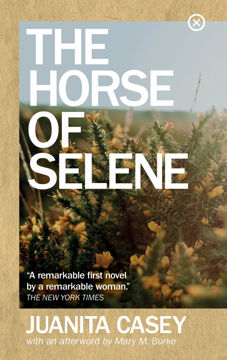 Few words by Liam – Galway's littlest bookseller
You walked along a road or rode upon it, and turned away from it, entered gates and doors and houses, each opening and closing with a different sound, and in a different way. So many steps, so many doors, so many keys, so many entrances and farewells.
The Horse of Selene by Juanita Casey is the latest instalment in Tramp Press's Recovered Voices series, which collects and republishes books that had previously been neglected or forgotten by publishers.
I don't know what I expected from The Horse of Selene, but it wasn't an intimate and, at times, comical meditation on the twilight of youth. It is a book about love and femininity, about roots and freedom. In it, Casey pits the rigidity of religion and the concept of home against the liberty of travelling. It is the story of Miceal, whose way of life crumbles when he meets a group of travelling youths. It is the story of Selene, who on the cold rocks of Aranchilla finds something worth staying still for. It is filled with the type of hope that we can only experience when we are young, when there are still choices to be made and paths to be taken. It is, above all else, a book of life.
Casey herself was born to an Irish Traveller mother and an English Romany father and had many different identities and preoccupations throughout her life. As Mary M. Burke explains in her essay at the end of the book, The Horse of Selene received critical attention but suffered from being published at a turbulent time for Traveller-settled relations in Ireland. Her work was unfairly forgotten, as is so often the case with marginalised voices. With its republication, I hope The Horse of Selene can join the likes of Unsettled and Why the Moon Travels as an important piece of art from the Traveller community.
It may be better to go into this book without knowing too much. Maybe then you will feel how I do now, as if somewhere, nearby, a new door has opened.
Maybe I'm just dramatic. . .but more than likely The Horse of Selene is just that good.
Dubray Recommends
Get your copy of this Irish fiction of novel Horse of Selene, often labelled as the lost connection between JM Synge and Kevin Barry. Available in our stores or online.