One of my favourite aspects of children's literature is the way that the unbelievable and impossible become believable and possible. Take for example The Story of Doctor Dolittle by Hugh Lofting. It is an amazingly simple adventure story with one unique element: Dr John Dolittle can talk to animals. The inclusion of talking to animals in a story can elevate it to a whole other level. From classics to contemporary fiction, the animal story is one of the oldest and best in children's literature.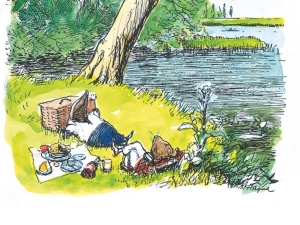 Two of the most famous books featuring animals is The Wind in the Willows by Kenneth Grahame and The Complete Tales by Beatrix Potter. Both these were staples in my childhood, and I was totally captivated by the idea that animals could live alongside us and be a part of our society. Scenes such as Grahame's Mr. Toad being condemned before a human judge, or Potter's Mrs. Tiggy-Winkle the washerwoman-hedgehog helping a little girl find her missing clothes, are striking images of animals interacting with more human concepts. These sorts of stories allow the animal and human worlds to become intertwined: it isn't a divided society between man and nature, but one society for all. 
Of course, animal stories made their first appearance in folktales and fairy-tales, such as Aesop's Fables. Sophie Anderson's most recent work The Girl Who Speaks Bear is a brilliant example of folktales being repurposed; the blending of Russian tales into her prose giving the stories new life. In these stories, the ability of animals and humans to communicate is something that just is. The fact that the animals can talk with Yanka, the main protagonist, reflects this aspect. Because animals and humans can easily converse in the novel, this allows for a closer bond between them.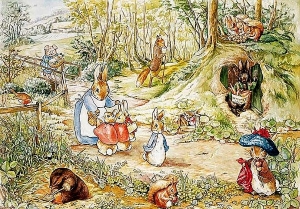 Similarly, animal stories can be used to provide a fresh perspective on our own society. One of my favourite books is The Hundred and One Dalmatians by Dodie Smith. This is a masterclass in how our pets think. Focusing on Pongo and Missis, two happily married dalmatians, and their lovely family of fifteen dalmatian puppies, the brilliance of the novel is its insight into a dog's life in a London home. The book doesn't feature the dogs; it is about the dogs. Then there is I, Cosmo by Carlie Sorosiak a more modern take on the story, that goes even further by allowing the reader to experience life as a dog. The brilliance of these types of stories is that they don't so much suspend our disbelief, but simply shift our view down to a dog's-eye view. As the owner of a dog, I am almost constantly wondering what she's thinking, and these are the kinds of stories that allow me to indulge in that curiosity.
For centuries now, humankind has been attempting to understand our animal neighbours, and within these stories our inner child can indulge in just that. As stories that relate to nature and the environment, they can help develop a positive interest in the natural world.