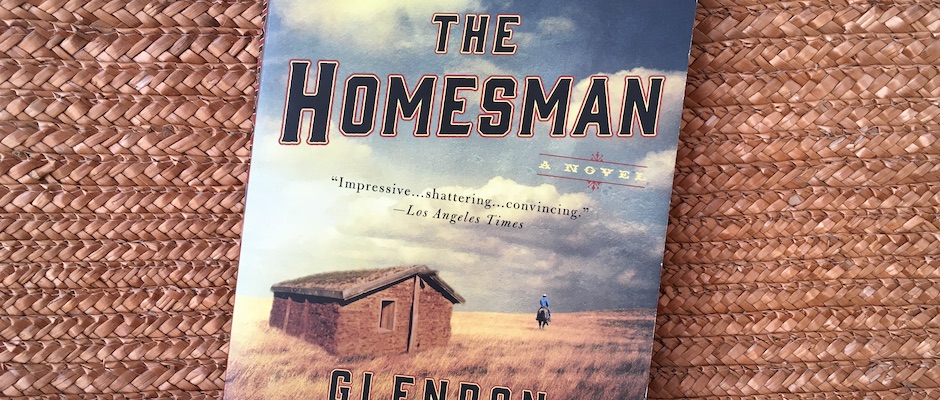 My little brother and his pals would play Cowboys and Indians for hours at a time. They'd point an imaginary gun at the unfortunate lad who drew the short straw and became the Indian, to be hunted down until he took his last breath. Then they'd gallop off on their trusty steeds. Nothing could have interested me less. But then I discovered Glendon Swarthout, the author of sixteen fine novels, mostly set in Midwest America. Reading his stories, I can easily imagine the hardship of life for the early settlers and the courage it must have taken to leave friends and family in search of a parcel of land to call their own.   
This land is your land, this land is my land
From California to the New York island,
From the redwood forest to the Gulf Stream waters;
This land was made for you and me.
—Woodie Guthrie
The Homesman was written in 1988 but I discovered it quite by chance. The book was reissued on the foot of a 2014 film starring Tommy Lee Jones and Hilary Swank and came to the attention of a whole new audience. Although I'd never heard of it before then, it's been a firm favourite with me ever since, and it continues to sell very well. The Homesman follows those early pioneers in the 1850s who set out with everything they owned to stake their claim on a plot of land miles away from everything they have ever known. Some are capable of enduring great hardship in the hope of a better future. But others, particularly the women, fall into a kind of madness that renders them useless companions, incapable of surviving in this harsh terrain, fit only to be returned from whence they came. Enter the Homesman, whose job it is to escort these unfortunates on that perilous journey back to civilisation.
I always have two copies of The Homesman on my book shelf. One to keep with a view to rereading one of these days, and the other to give to a friend so that they might discover that there's much more to Cowboys and Indians than my little brother ever imagined.