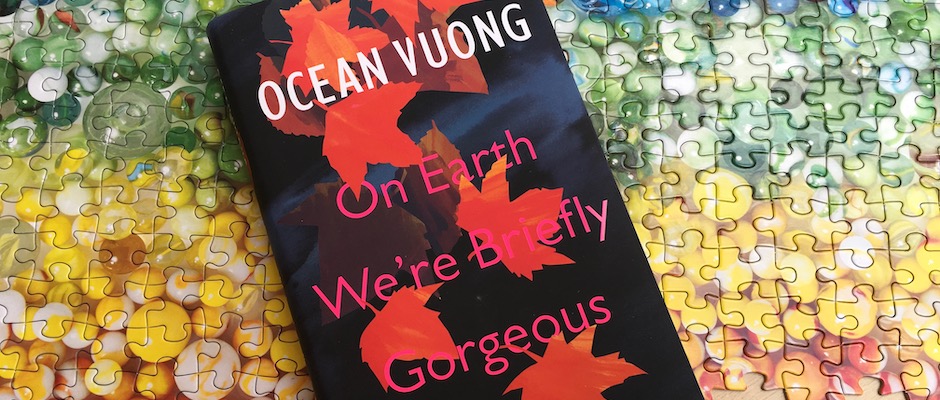 Reading an easy book is like turning on the telly, regardless of what's on, and letting it wash over you. Not that there's nothing wrong with that when you need to simply chill out and relax! On the other hand, as serious readers we need to challenge ourselves if we are to improve our reading skills. We need to dive into unknown literary waters right up to our necks, find out if we can sink or swim. Once you try it, you'll find it exhilarating!
"If difficult times teach us the most important lessons,
we should then learn to read difficult books." 
—Joyce Rachelle
When Martin lent me his current favourite book, On Earth We're Briefly Gorgeous by Ocean Vuong, I knew straight away that this was going to be a difficult read for me. But when a fellow bookseller lends you a book they have loved, the least you can do is read it cover to cover.
Let me begin again.
Dear Ma,
I am writing to reach you—even if each word I put down is one word further from where you are. I am writing to go back to the time, at the rest stop in Virginia, when you stared, horror-struck, at the taxidermy buck hung over the soda machine by the rest rooms, its antlers shadowing your face. In the car, you kept shaking your head. "I don't understand why they would do that. Can't they see it's a corpse? A corpse should go away, not get stuck forever like that."
Corpses? Taxidermy? Already I was thinking to myself, do I really want to know more? The raw prose promised unsettling images that I guessed (rightly, it proved) would haunt my middle-class sensibilities. But I continued to read as though completing a jigsaw with acres of unvarying blue sky whereupon the finished picture becomes a riot of colour.
This story is a letter writing by Little Dog to his mother describing all that happened in their lives, going back to a time even before he was born. Mother and son have always known great hardship and cruelty, they have never known it easy or calm. Having come to a place of relative safety, they both understand that civility and acceptance are only a thin layer beneath which lies violence and an undercurrent of fear. When Little Dog falls in love for the first time, it hurts but his heart is gone. He is utterly changed by love and so is the reader, because by then we are deep in the heart of a novel that tugs and worries like a dog with a bone.
Ocean Vuong was born in Ho Chi Minh City, Vietnam with the given name, Vương Quốc Vinh. He left a refugee camp in the Philippines to live in the US at the age of twelve, going on to graduate with a BA in Ninteenth Century English Literature. This young man has overcome incredible odds to become an acclaimed essayist and award-winning poet, and in June of this year he published this, his first novel. On Earth We're Briefly Gorgeous took me way out of my comfort zone. Had it not been for Martin I would never have persisted with it, but I'm glad now that I did. The writing is well worth the journey and the scenery along the way is unfailingly spectacular.