About Andrea Mara
We love to recommend new books and offer you a taste of the latest publications or soon to be published. One such novel is by the award-winning author – Andrea's Mara and her new book- Hide and Seek. She has been featured in the Irish Times Top Ten bestselling author, shortlisted for the Irish Crime Novel of the Year at the An Post Book Awards. Her novel, All Her Fault, was Sunday Times Crime Book of the Month, and a Kindle Top 5 bestseller. Andrea has now published her new book Hide and Seek.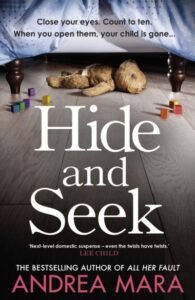 A Glimpse of Her Novel
Andrea Mara's new book Hide and Seek, was published only on 28th July, 22 and we are thrilled to share an extract written by Andrea herself, describing what inspired her to write her next sensational novel. Her new book tells the story of Joanna and her family, who move into their new house, where she discovers about its dark past. She is determined to uncover the truth and realises her memories are the answers, but someone is going to go to any lengths to stop her from remembering.
The Inspiration Behind the Book – By Andrea Mara
Once upon a time, my children were very small, and once upon a time, I kept them very, very close. Close because that's what you do with small kids, and close because like any parent of a toddler or a pre-schooler, letting them out of your sight carries a small weight of constant unease. At the playground or at the beach or in the woods, it's just easier all around to keep eyes on them. And of course, from time to time, my children disappeared. Inside a tunnel slide or under a beach umbrella or behind a tree. Each incident provoked the same response in me – mild concern, followed by moderate alarm, followed by outright panic, then relief and a self-mocking smile. How foolish am I? Worrying every time they disappear. It's a playground, for goodness sake. How far can they go? Until the next time, when it happens all over again.
And then there's the time when it lasts just that little bit longer. As was the case when my youngest child was three-years-old, at my side when I was picking up his older sisters from school. At my side until he decided to play a game of Hide and Seek with the other younger siblings. I usually said 'no, stay here, stay by my side, stay where I can see you,' when he started to wander off. But this time, wanting to give him such much needed freedom, to build his independence, to be a 'good' mother, I let him play.
A few minutes later, I noticed the other smaller children going home. Holding hands with their parents, exiting through the school-gate.
Game over.
Except, game not over.
Because my son was still hiding, and I didn't know where. I had the most irrational impulse to call out to the other children and ask them to help – as though they were the only ones capable of finding my child. As though the game was magic, and only children could unlock it. But of course I didn't call them back. I began to search. And search and search and search. Other parents and children joined me, and for fifteen minutes we combed the school grounds and the building site behind. Panic surged with each step. He'd be OK, of course, he'd be OK, but where was he? And what kind of dangers did a building site hold? Could he get out the gate? Would someone stop him? Would he know not to go with a stranger? Every wild thought ran through my head as I ran through the school, searching and searching, and then suddenly, there he was. Grinning up at me. He'd been hiding, he told me, in lots places, though he couldn't remember where.
And while I don't have fond memories of searching, the event did inspire Hide And Seek – a story about a child who goes missing while playing with neighbourhood friends one hot summer's morning in July 1985. Thirty-three years later, Joanna and her family move into the former home of the missing child and Joanna soon realises she has a link to the child's disappearance.
Happily, my own child's disappearance took fifteen minutes to resolve, not thirty-three years. To this day, I don't know exactly where he was. But I do know that last summer, when he asked me if he could play Hide and Seek in the woods, the answer was a swift and resounding "no".
Dubray Recommends
Andrea Mara's new book Hide and Seek is a fast-paced thriller, a next level domestic suspense novel that is written extremely well, which will have you hooked in and captivated from the very beginning. You can get your copy from your local Dubray store or get one online!