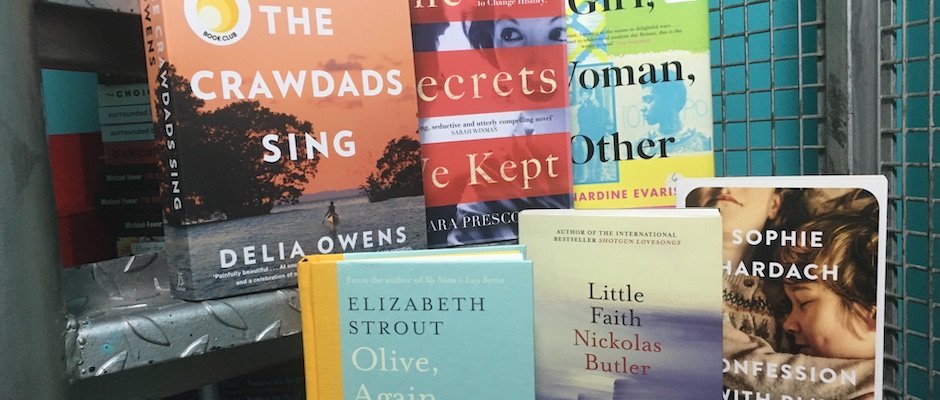 In our final post for 2019, Mary Burnham rounds up her favourites of the year. See you in 2020!
It's that time of year when so many people give books as gifts to friends and family as a token of their love. But it's often difficult to choose from the plethora of new titles screaming out for your attention in bookshops up and down the country. To make it a little easier here are some of my favourites that I've read throughout the year, all of them suitable for just about anyone who enjoys reading a good story well told.
"A book is a gift you can open again and again."
—Garrison Keillor
Olive, Again by Elizabeth Strout is a recent release but already a firm favourite with so many readers. Reading about this uniquely awkward woman (who would strain the patience of a saint) should be an inspiration to all writers who aspire to truthfulness and clarity in their work.
Nickolas Butler's second novel, Little Faith is about a small family unit. It's set in rural America but could easily be downtown Galway, as people come up against the same personal problems everywhere. An adored grandchild means the world to her grandparents but their difficult daughter ensures that having any kind of relationship at all comes at an almost impossibly high cost.
Delia Owens's first novel Where the Crawdads Sing came out of nowhere and enchanted readers everywhere. It is about the outsiders who tend to be blamed for everything that goes wrong in town — when a young man is murdered the finger is well and truly pointed in their direction.  Atmospheric, pastoral, intriguing and a blooming good story.
East Germany before the fall of the Berlin Wall is the setting for Confession with Blue Horses. Life there is about settling for less and making do. But there's a wide world beckoning and a journey with tragic consequences that haunts the characters in this book for the rest of their lives. Sophie Hardach brings us bang up to the present day to try and discover what happened, and who was to blame in this fabulous story.
The Secrets We Kept by Lara Prescott is an intriguing look at the world of Boris Pasternak as he prepares to write his novel, Doctor Zhivago. Meanwhile, in the States, spies are keeping abreast of the situation, waiting for publication, searching for subliminal messages in the text.  Stalin was raging, doing everything in his power to prevent this book coming out in print but thankfully this modern classic eventually reached the world stage and millions of readers. 
The Dutch House by Ann Patchett is one of those books that delivers everything we look for in a novel: charismatic characters, sublime scenery, family feuds, love, loss and reunions. What a story, what a storyteller!
Girl, Woman, Other by Bernardine Evaristo, joint Booker Prize winner, a book that operates on so many levels and gives oodles of pleasure to the reader. Twelve different and yet interconnected characters move through their lives as they experience everyday racism, sexism, violence, success, and wonder. It's a book that makes you glad to be alive and ready for action!