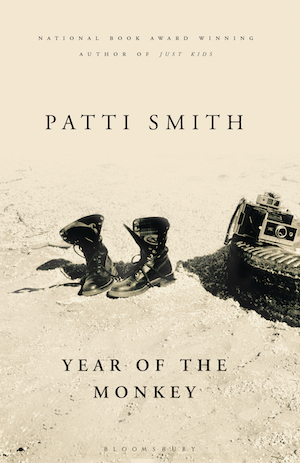 The incomparable Patti Smith celebrates the passing of another decade in her life with The Year of the Monkey. In her seventieth year, this prolific punk-rock poet sets out on a restless journey following a series of concerts in California. As she wanders around Santa Cruz, the Arizona desert, a farm in Kentucky, she thinks about her mentor, Sandy Pearlman, who is in a coma in hospital. She evokes her guilt at being unable to bear to sit and watch him die. Her one-time lover, playwright Sam Shepard, is also suffering from chronic illness. She goes to visit him, musing on their shared past and already mourning what Sam's illness has cost him.
The Year of the Monkey is the third volume of Patti Smith's memoir, which began with Just Kids. Winner of the National Book Award in 2010, Just Kids chronicles her intense and creative relationship with photographer Robert Mapplethorpe. It's beautiful, lyrical tribute to her first love, who died in 1989.
The second volume, M Train, is centred on her late husband, musician Fred "Sonic" Smith. The father of her two children, Fred was her soulmate and cared about poetry as deeply as she did. In M Train, Patti explores her intense grief for the lost life they led together. This grief is compounded by the death of her brother Todd, who died shortly after her husband. She mourns also for her children's childhood as they grow up and move away. M Train is a memoir peopled by ghosts and Patti's sense of isolation is palpable.
The Year of the Monkey is a series of musings, spliced with dream sequences and elements of magical realism.  A neon motel sign which reads Dream Inn becomes Patti's inner critic, taunting her until she feels like Alice being interrogated by a hookah-smoking caterpillar.  I never quite worked out the significance of mysteriously pristine but empty candy wrappers that show up randomly throughout her journey.  Although it's not an uplifting memoir, I could not help but be drawn in by the poetry of the language and imagery.