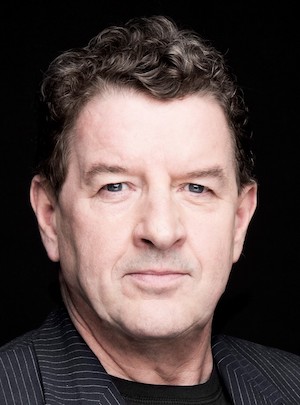 Mike penned hit singles 'Beautiful Affair' and 'Walk Away' for Stockton's Wing, and has made music and cooked with Ronnie Drew, Finbar Furey, Maura O'Connell and Sharon Shannon. He left the music industry to study and ultimately teach at Ballymaloe cookery school, later cooking in restaurants in Cork and Dublin. In recent years he is back on stage with Eleanor Shanley, and is currently working with Leslie Dowdall. His book, Beautiful Affair, will be launched tomorrow evening at McCormack's in Dun Laoghaire.
So, you finally invite people to your house for dinner.
Fourteen possible guests are whittled down to eight after a rigorous process of selection based on strengths, foibles, conversationability, alcohol receptivity and craic.
On Monday morning the menu is set, taking into account all known food allergies and preferences. It is altered by lunch, and finally locked-in at lights-out after a heated debate between Viennetta and your homemade pistachio caramel ice cream sundae. You find sleep, albeit in opposing directions.
By mid-week, rehearsals have gone reasonably well, and while most of the extras have been fine-tuned, budgetary constraints throw a blanket over the beef Wellington. But a little Googling boosts your confidence, and you are newly sanguine, your pièce de résistance soon to be in the bag.
Thursday afternoon finds you dancing, delighted with yourself, through the aisles of Lidl, filling a trolley with all of your ingredients, along with a few extra bits and bobs for good measure. Friday lunch break is a spin to the Asian shop for saffron to go with the newly crowned starter of scallops en papillote. (I know…)
That evening, the house is at fever pitch as you both hoover and polish your way from room to room with an occasional Chardonnay pit-stop. By the time the Late Late comes on you have no strength, and both collapse into the sofa to criticise the guests. Together again.
Saturday morning sports are cancelled as you hit the boards: mushrooms pulped, garlic crushed, carrots julienned, fennel shaved along with the tip of your left forefinger, onions draw tears and the lemons pierce every nook and cranny. You marinate and macerate, you sweat and you score, you grill and bake as you work your way into an emotional crescendo until you reach a loud, lingering SCREAM. By lunch the kitchen looks like Monday morning at the Electric Picnic glamping site, and when you open the fridge door, your heart skips a beat. There it is, looking at you, patiently waiting for the call: the Beef Fillet. You remove the pastry pack and slam the door shut.
By four o'clock, it's his time. The main attraction. Although you're exhausted, you're really rockin' now as you start rollin', spreading the duxelle love with a finale of little pastry hearts, glazed to perfection and the Wellington is presented to your summoned audience of one, circling the island in awe and wonder. It's your masterpiece.
Later, as you plate yourself up for company, you add some final touches, wipe the sauce from your hem, spritz a little garnish behind your ears, you hear the doorbell ring and the high heels ping. You stop to listen for a while as the chatter rises. The curtain parts. Deep breath. It's showtime.
The opening act of papillote is well received, the sundae with your ginger biscuit crumbs floors them, but the Wellington – well, they take to their feet, applaud, cheer, scream, 'Bravo, bravo, take a bow!'
As a hush settles over the Lily O'Briens, a guest turns to you and says, 'That was stunning food… one of the best meals… You must have put some serious effort in to create such a beautiful spread! Well done you.'
'Ah sure, it was nothing, really,' you reply, and melt back into your chair.
NOTHING REALLY? NOTHING REALLY?
Get back up out of that seat!
Try again.
Acknowledge your audience's good taste! Say, 'Thank you all very much. It was our pleasure! We are so delighted you enjoyed it, and it was certainly worth the effort.'
Learn to take the bow.