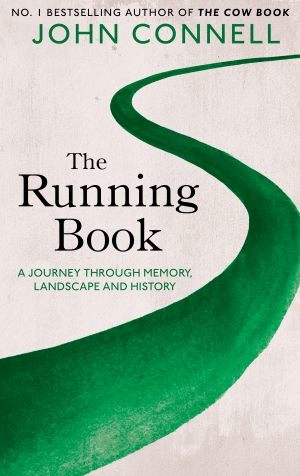 On the face of it, I get up, I put on my runners and I go out the door and run. On the face of it so often a person runs in a circle ending up where they started having achieved to the outsider nothing only to make oneself tired, sweaty and often times exhausted.
I used to think runners were actors in a perpetual déjà vu. Now, however, I see that each time is a new journey, a new experience.
Each run is never the same, a man can run the same track every day and, like a river, find it is always different. It's not the track that changes, it's us.
The Running Book has been a work I had wanted to write for a long time. Indeed at the end of The Cow Book I struck upon the idea of continuing my life story through the device of a run. 
I set out to tell the story of not only my love for running but also to examine the history that makes my home county of Longford the way it is. As I started to look at that history I began to understand the global links between Irish history and the British Empire and so I began to study the effects of post-colonialism.
That journey took me through the various countries I have lived in from the USA to Canada and Australia.
The book was a joy to write but most importantly it was a book about finding happiness and how I attained that through running which allowed me to deal with my mental health. In movement we can find ease and I hope that you will find happiness in this book too.
John Connell's work has been published in Granta's New Irish Writing issue. His memoir The Cow Book was a #1 bestseller in Ireland and won the 2018 An Post Irish Book Award/Ireland AM Popular Non-Fiction Book of the Year. He lives on his family farm, Birchview, in County Longford, Ireland.